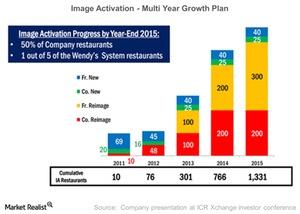 Why Did Wendy's Start Its Image Activation Program?
By Adrian Newman

Apr. 3 2015, Updated 8:05 a.m. ET
Old brands getting a new look
From 2011 to 2012, Wendy's (WEN), as part of its System Optimization Initiative towards brand building, started its Image Activation program. It's a program to remodel restaurants. According to Nation's Restaurant News, Bob Farms (BOBE)—a full service restaurant—underwent a remodeling program in 2014. McDonald's (MCD) is also remodeling its restaurants. Popeyes (PLKI) remodeled its restaurants last year.
From the above chart, you can see that Wendy's plans remodel almost 1,331 restaurants under this program.
Article continues below advertisement
Strategy behind remodeling program 
Analysts observed that people who dine inside a restaurant spend more money. According to a report by The Columbus Dispatch in March 2015, Wendy's remodeling might increase the "dining in" share from about 50% to almost 70% of the total sales. The objective of remodeling is that Wendy's wants more customers to eat at the restaurant instead of picking up food or using the drive thru.

Financial support for franchise participation
Wendy's provides a part waiver in the franchise royalty payments after the completion of construction or remodeling. Wendy's also partnered with a third-party lender to provide loans to the franchisees participating in this program. Wendy's provides its franchisees with an irrevocable letter of credit of $6 million as financial support.
Cash incentive for participating franchise
Since 2012, Wendy's has had an incentive program for its franchisees participating in this program. Wendy's also gave cash incentive programs to its franchisees for their participation. The company recognized $4.4 million and $9.2 million for cash incentives in 2014 and 2013, respectively. This incentive program will continue until 2017.
Companies in the fast food restaurant industry can be accessed through ETFs like the Consumer Discretionary Select Sector SPDR ETF (XLY). XLY holds about 0.91% of Chipotle's (CMG) stock.
In the next part of this series, we'll discuss the rationale behind Wendy's Image Activation program.