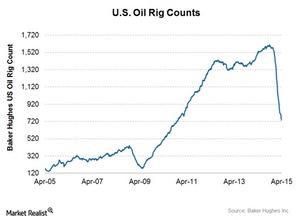 US Crude Oil Rig Count Down for 19 Straight Weeks
<p>US crude oil rig count decreased by 26 for the week ended April 17 down from 760 to 734. The number of oil rigs is now at its lowest level since December 3, 2010.</p>
Oil rig counts at lowest level since December 2010
Oilfield services company Baker Hughes reported that the US crude oil rig count decreased by 26 for the week ended April 17 compared to the previous week, down from 760 to 734. The number of oil rigs is now at its lowest level since December 3, 2010.
The steepest decline in oil rigs since 1990 occurred on January 30, 2015, when the weekly oil rig count decreased by 94.
The latest figures mark the 19th consecutive weekly fall in crude oil rig counts. In those 19 weeks, the crude oil rig count has crashed by 841.
Article continues below advertisement
Article continues below advertisement
Among the major resource shales, the main reductions occurred in the Mississippian Lime in Oklahoma and Kansas, where rig count dropped by nine last week. In the Permian Basin located in western Texas and southern New Mexico and in the Williston Basin in North Dakota, oil rig count declined by five each. Part 5 of this series discusses the Permian Basin rig count in greater detail.
The crude oil rig count has fallen by 875, or 54%, since hitting 1,609 rigs on October 10, 2014. In that week, crude oil rig count was the highest since January 2005.
Producers are at risk
Crude oil price has fallen sharply since June last year and has continued to stay low. When oil prices continued to dip, oil producers such as Whiting Petroleum (WLL), Marathon Oil (MRO), Concho Resources (CXO), and Laredo Petroleum (LPI) took a hit. MRO and WLL together account for 2.6% of the SPDR S&P Oil & Gas Exploration & Production ETF (XOP).
To explore the latest crude oil price movements, please read Latest Crude Inventory Reveals Bullish Development.
One-year oil rig count comparison
In the last year, the number of oil rigs in operation has dropped by 776, or ~51%. Activity in the oil-rich Permian Basin in West Texas drove most of the decrease. In comparison, the numbers grew by 139 during the corresponding period in the previous year.
Read the next part of this series for more on the natural gas rig count.