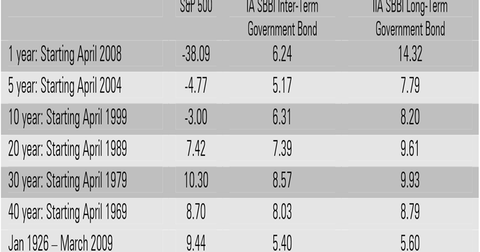 Stocks Beat Bonds over the Long Run By a Big Margin
By Saul Perez

Updated
Bonds are considered safe
The majority of investors believe bonds are safer than stocks. The main reason is that bonds pay regular interest. Bonds issued by the government have the added allure of being guaranteed by the government. But, is stable also safe?
Article continues below advertisement
Buffett emphatically declares stocks to be safer
Buffett had this to say in his 2014 Berkshire Hathaway (BRK-B) letter to shareholders—"The unconventional, but inescapable, conclusion to be drawn from the past fifty years is that it has been far safer to invest in a diversified collection of American businesses than to invest in securities – Treasuries, for example – whose values have been tied to American currency. That was also true in the preceding half-century, a period including the Great Depression and two world wars. Investors should heed this history. To one degree or another it is almost certain to be repeated during the next century."
Now, you can't be more emphatic than that.
Stocks add to purchasing power over the long run
One of the main reasons that stocks are safer is that their returns beat inflation over the long term. High-grade bonds, on the other hand, at best match inflation. So, bonds aren't able to keep your purchasing power intact in the long run. Stocks, on the other hand, add to your purchasing power.
The performance of stocks against bonds or the debt of the same companies is also a good indicator. Here as well, stocks beat the bonds of companies such as Wells Fargo & Co. (WFC), IBM (IBM), and Coca-Cola (KO). These three stocks account for 3.08% of the iShares Core S&P 500 ETF (IVV).