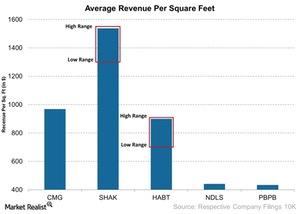 How Shake Shack's Revenue Per Square Foot Compares with Peers
Average revenue per square foot
The recent rally in Shake Shack's (SHAK) share prices—without any new catalyst—may indicate that investors are optimistic about the company's prospects. But, has the company performed better than its peers? Below, we compare the average revenue per square foot for Shake Shack with two of its peers.
Article continues below advertisement
Average unit volume
Shake Shack will be opening most of its new restaurants in markets outside Manhattan. This is important because Manhattan is the highest-density location for any restaurant, and it has an average unit volume of ~$7 million. Newer units will have an average unit volume of $2.8 million–$3.2 million.
In 2014, the average unit volume for company-operated stores was $4.6 million. The average square footage of Shake Shack stores is between 3,000–3,500 square feet, which would produce an average revenue per square foot of $1,537–$1,317 in 2014.
Compare this to the average unit volumes of $1.8 million for The Habit Restaurants (HABT), which has an average store size between 2,000–2,800 square feet. This gives an average revenue per square foot of about $642–$900. Chipotle Mexican Grill (CMG) had an average unit volume of $2.4 million, with an average restaurant store size of 2,550 square feet and an average revenue of $969 per square foot.
Potbelly (PBPB) and Noodles & Co. (NDLS) have the lowest revenue per square foot of $434 and $431, respectively. You can also find Chipotle Mexican Grill in the Consumer Discretionary Sector ETF (XLY), which holds about 1% of CMG and 3% of Starbucks (SBUX).
Shake Shack is more attractive
The higher average revenue per square foot indicates that customers like Shake Shack's menu offerings. But this may change as the company opens more restaurants outside Manhattan, in areas with lower population density. The average revenue per square foot will drop from $1000 to $857. Now, the question is whether Shake Shack will be able to replicate its success outside of New York City.