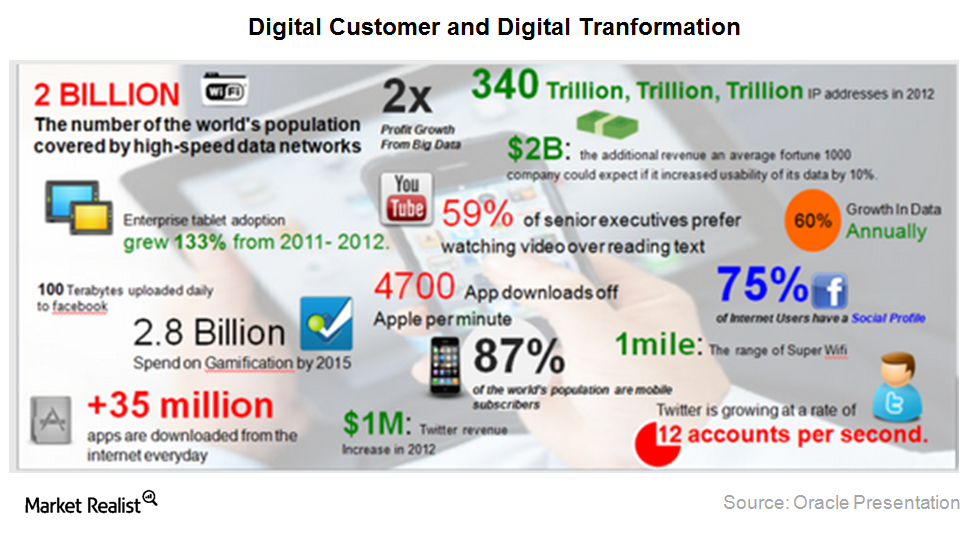 Oracle's New ID Graph Offers Unique Features
The connected devices trend leads to multiple identities of a single customer
With the increased trend of connected devices, people are interacting with brands in different ways and on different devices. The customer profiles appear differently depending on the device or medium, such as desktop, mobile device, or through a social network. As such, technology players want to provide offerings to meet this challenge. As we have seen in the earlier part of the series, Oracle launched Oracle ID Graph (or ODIG) in its Marketing Cloud to address this issue earlier this month.
Apart from Oracle's (ORCL) offering of Oracle ID Graph in this space, its peer Salesforce.com, offers Data.com. Data.com is a cloud-based system that utilizes a user-generated database. It is a tool for customer relationship management (or CRM) space and members continuously update the database.
To gain diversified exposure to Oracle, you can invest in the iShares US Technology ETF (IYW). IYW invests about 3.92% of its holdings in Oracle.
Article continues below advertisement
Oracle ID Graph helps in determining people's identities across various channels and devices
According to Information Week, Oracle ID Graph's unique feature is that it separates device-based identifiers and mobile devices that allow marketers to send a message to these devices directly. Device-based identifiers include desktops and tablets, while mobile devices could include Apple (AAPL) and Google Android (GOOG) devices.
The BlueKai technology in ODIG comes equipped with an in-built safety feature that allocates private recognizable information like email addresses and names. According to Steve Krause, group vice president (or VP) of product management, Oracle Marketing Cloud, "There's a plethora of identifiers that matter and they're not all going to nicely come together, so we're offering a translation layer."
Just to get a better understanding of how it works, let's assume a customer went for an email option, but the marketer chose to reach them through advertisements on a social network like Facebook (FB). In this scenario, ODIG lets marketers integrate with Facebook by using a hashed form of email addresses to deliver ads to that network.