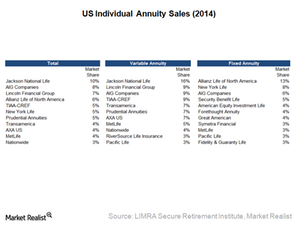 Leading Players in the US Annuity Industry
Variable annuities
The market leader in variable annuity sales in 2014 is Jackson National Life, a subsidiary of UK-based insurer Prudential plc. The data were provided by LIMRA Secure Retirement Institute. Jackson commands a 16% market share with $23 billion in sales.
Other leading players in the annuity industry include Lincoln National Corporation (LNC), American International Group (AIG), and Prudential Financial (PRU). Variable annuity sales of Lincoln and AIG were at ~9% of the total sales in 2014. Prudential Financial had a ~7% market share. MetLife (MET) enjoyed a 5% share of the variable annuity sales. The variable annuity market is concentrated with the top 20 players contributing ~94% of total sales in 2014.
Article continues below advertisement
Fixed annuities
The market leader in the fixed annuity industry is Allianz Life Insurance Company of North America with a 13% market share, followed by New York Life with 8% share. This market sees a lower share, or 74%, from the top 20 players compared to the variable annuity market.
AIG has the third highest market share at 6% in fixed annuity product sales with sales slightly more than $6 billion. MetLife (MET), Lincoln National Corporation (LNC), Genworth Financial (GNW), Voya Financial (VOYA), and Berkshire Hathaway (BRK) are other listed US insurers who figure in the top 20 list. MetLife and Lincoln had a ~3% market share, while Genworth, Voya, and Berkshire's sales accounted for ~2% of the fixed annuity sales.
Overall sales
Overall, Jackson National Life saw 10% sales of the total market, followed by AIG at 8%, Lincoln Financial at 7%, and Prudential Financial at 5%.
Investors interested in gaining exposure to the insurance sector can invest through ETFs such as the iShares U.S. Financials ETF (IYF) or the Financial Select Sector SPDR ETF (XLF).
For latest updates, please visit Market Realist's Insurance page.