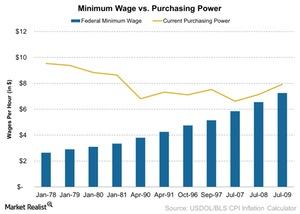 The Eroding Purchasing Power of the Minimum Wage Worker
By Adam Jones

Apr. 14 2015, Updated 9:06 p.m. ET
Why have minimum wages?
The federal minimum wage was introduced to keep workers in America out of poverty and to increase their purchasing power.
The chart above shows the federal minimum wage between 1978 and the most recent increase in July 2009. The yellow line indicates the current—in 2015—purchasing power of minimum wage in each period. For example, in 1978 the federal minimum wage was $2.65, but the value, according to the yellow line, was $9.54. This $9.54 is the purchasing power of $2.65, adjusted for inflation, in the year 2015.
Article continues below advertisement
Purchasing power erodes
Over the 11 periods shown in the chart above, you can see that while the absolute minimum wage has increased, when adjusted for inflation in 2015, its purchasing power has declined. Even the latest minimum wage increase to $7.25 in 2009 hasn't kept up with the inflation adjusted purchasing power of $7.93 in 2015.
This erosion of purchasing power is because inflation is growing faster than the minimum wage. This means that the prices of goods and services have increased at a faster rate than actual wages. This benefits the businesses that are able to pass on their costs to consumers, yet don't increase the pay of minimum wage workers over the years.
Restaurants such as McDonald's (MCD), Yum! Brands (YUM), Dunkin' Brands (DNKN), and Jack in the Box (JACK) often hire minimum wage workers. The consumer discretionary sector (RXI)(XLY) benefits when these companies earn higher revenues from price increases but aren't required to increase the cost of labor at the same pace. This results in a better bottom line and is positive for ETFs such as XLY that holds 10% of its investments in restaurant stocks.