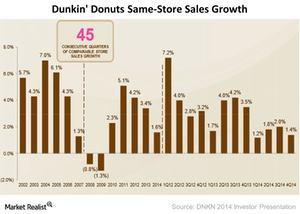 How Is Dunkin' Donuts Doing in Same-Store Sales Growth?
Same-store sales growth
Same-store sales growth is one of the most important measures that analysts keep a close eye on because it drives revenue for a restaurant company. Same-store sales growth, represented as a percentage, measures the change in sales at the same restaurant locations over a period of time, usually a year. Below is the same-store sales growth trend for all Dunkin' Donuts (DNKN) restaurants.
As you can see in the above chart, the overall same-store sales growth for Dunkin' Donuts has been declining over the years. All four quarters in 2014 had a lower same-store sales growth compared to the corresponding quarter a year ago in 2013. The only two years when the company had negative same-store sales growth were 2008 and 2009, when the US economy was experiencing a recession.
Article continues below advertisement
How the economy impacts same-store sales
Restaurant expenses are a part of a customer's discretionary income. This takes a hit when people lose jobs. It also creates an uncertainty about the economy. It affects restaurant stocks such as Yum! Brands (YUM), Chipotle Mexican Grill (CMG), and Panera Bread (PNRA), which are all part of the consumer discretionary sector (XLY)(RXI). To learn more about the macroeconomic indicators for a restaurant, read Market Realist's article Analyzing Key Restaurant Indicators.
Same-store sales are driven by two factors: the number of customers walking into the stores, or traffic, and the average amount or average check those customers pay for an order. Restaurants constantly strategize on how to improve same-store sales at their locations. Some of the strategies include menu innovations, technological innovations, and aggressive promotions.
In the next part, we'll look at how Dunkin' Brands is using technology to attract and retain customers.