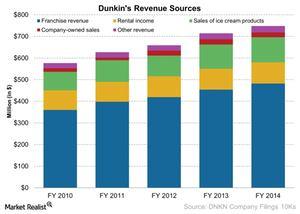 What are Dunkin' Brands' Five Sources of Revenue?
By Adam Jones

Apr. 7 2015, Updated 6:07 p.m. ET
Sources of revenue
Dunkin' Brands (DNKN) generates revenue from the following five sources:
franchise revenue
sale of ice cream products
company-owned sales
rental income
other income
Article continues below advertisement
Franchise revenue
Dunkin' Brands operates a nearly 100% franchise model, so it's not surprising that the majority of its revenue comes from franchises in the form of royalties and fees from the franchisees. In 2014, franchise revenue accounted for 64%, or $482 million, of Dunkin' Brands' total revenue.
Sale of ice cream products
The sale of ice cream products to Baskin-Robbins stores under the umbrella of Dunkin' Brands is the second major source of revenue for the company. It contributed 16%, or $116 million, of Dunkin' Brands' 2014 revenue.
Article continues below advertisement
Company-owned sales
Restaurant companies that franchise may also have their own restaurants, which often play a different role in the company's strategy. Domino's Pizza (DPZ) uses its company-owned locations for product testing, promotion testing, and training. Yum! Brands (YUM) has a blend of company-owned and franchise restaurants. Chipotle Mexican Grill (CMG) doesn't franchise. Company-owned income accounted for 3%, or $22 million, of Dunkin' Brands' revenue.
About 1% of CMG is included in the Consumer Discretionary Select Sector SPDR ETF (XLY).
Rental income
Companies that operate the franchise model may own properties that they lease to franchisees to operate either Dunkin' Donuts or Baskin-Robbins stores. Income from these properties comes in the form of rents and accounted for 13%, or $98 million, of the company's revenue in 2014.
McDonald's (MCD) has several properties like this in its portfolio, accounting for almost a third of its market capitalization.
Other revenue
Revenue from licencing, franchisee transfer fees, refranchising gains, and online training fees are included in other revenue. Licensing fee includes manufacturing rights to a third party for Dunkin' Brands coffee and Baskin-Robbins ice cream. This source accounted for about $30 million, or 4%, of revenue in fiscal year 2014.