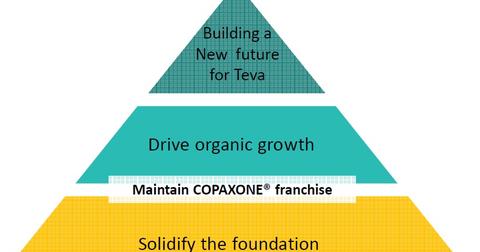 Why a Change in Strategy Will Improve Teva's Profitability
By Nicole Sario

Updated
Overview of strategy
Teva (TEVA) initiated the process of redefining its business strategy in 2014. Here are the key elements of the company's strategy:
drive organic growth
focus on key growth markets
maintain Copaxone franchise and other key specialty products
Article continues below advertisement
How to drive organic growth
In its Generics Medicines segment, Teva plans to improve its profitability by focusing on the following:
cost reduction – Gross cost saving of $2.48 billion is planned during 2013–2016. It intends to achieve this through lower production cost (less than $10 per 1,000 pills) and by shifting 60% of its production capacity to low-cost countries ($6–$7 per 1,000 tablets).
value-driven growth in European business – The company will achieve this through selective market presence and by optimizing its product portfolio.
complex generics – This includes developing complex products such as thin films and patches, vaginal rings, injectables, and inhalators that have high entry barriers. It also includes development of biosimilars and difficult dosage forms. Actavis (ACT) and Hospira (HSP) are also developing complex generics.
In the Specialty Medicines segment, the company is focusing on the following:
narrowing focus on therapeutic area – It plans to reinforce its leadership position in key therapeutic areas of CNS and respiratory.
development of new products to cater to unmet patient needs through its new therapeutic entities (or NTE) program – In fiscal 2014, Teva had 15 NTE products in its pipeline.
maintaining Copaxone franchise by switching patients to Copaxone 40mg/mL, a new version of Copaxone 20mg/mL
Why key growth markets
Teva is now focusing on key growth markets, contrary to its earlier strategy of gaining market share and sacrificing margins. It's focusing on bigger markets such as BRIC (Brazil, Russia, India, and China). Also on its radar are markets that are more than $7 billion in market size such as Mexico, Argentina, Turkey, Indonesia, South Korea, Australia, and Venezuela.
You can capitalize on the company's growth potential by investing in ETFs such as the Health Care Select Sector SPDR Fund (XLV) and the iShares U.S. Healthcare ETF (IYH).