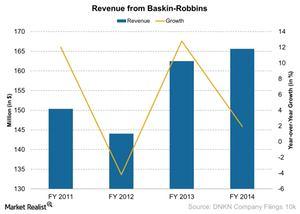 Baskin-Robbins' Four Year Revenue Trend
By Adam Jones

Apr. 6 2015, Updated 12:07 p.m. ET
Baskin-Robbins brand
Baskin-Robbins, under the umbrella of Dunkin' Brands (DNKN), is a limited service restaurant offering ice cream and related products to its customers.
The take-home ice cream business represented the largest portion, or about 67.7%, of total ice cream sales in the United States in 2010 according to MarketLine, an Informa business.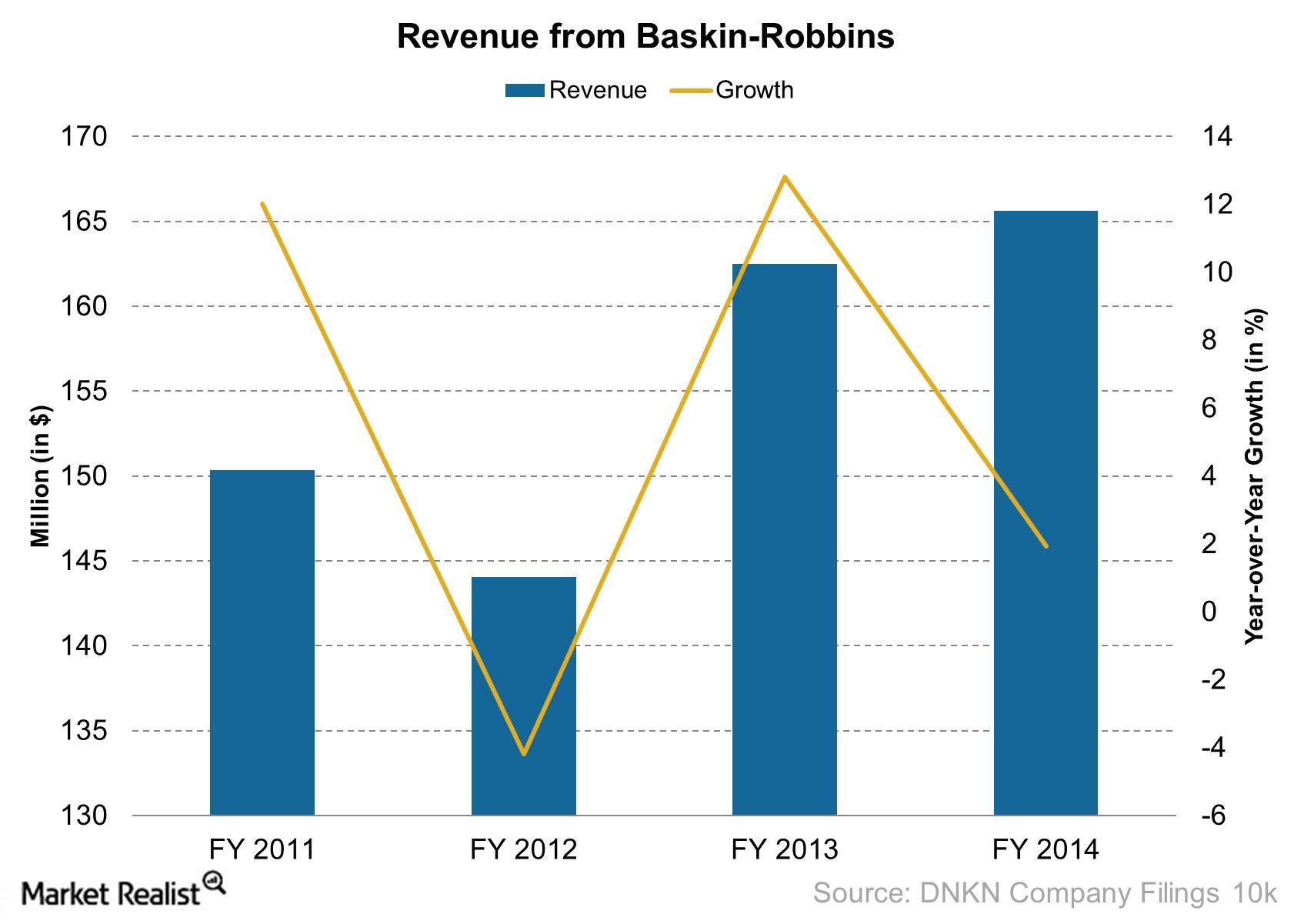 Since the majority of ice cream is taken home, Baskin-Robbins faces competition from other brands sold at groceries (WMT)(COST)(TGT) such as Ben & Jerry's, Breyers, Häagen-Dazs, and Magnum.
Article continues below advertisement
Revenue and growth
In the chart above, you can see that the revenue increased in 2013 and 2014. Total revenue from Baskin-Robbins' US and international markets accounted for 14% of Dunkin' Brands' total revenue. Of the $165 million, $122 million came from Baskin-Robbins' international market, and $43 million came from Baskin-Robbins' US market. In fiscal year 2014, revenue grew only 2% year-over-year.
The menu
Baskin-Robbins' menu offers a variety of ice cream flavors in the cup and cone, sundaes, parfaits, beverages, and ice cream cakes. Along with regular walk-in orders, the company also offers an option to order cakes online. Baskin-Robbins is most known for its 31 flavors, which appears in the brand logo. The number 31 represents as many flavors for each day of the month.
Restaurants such as Dunkin' Brands are part of the consumer discretionary industry (XLY) (RXI). XLY holds about 10% of restaurant stocks.
As of fiscal year 2014, there were more than 7,500 Baskin-Robbins locations globally, including the United States. There were about 2,500 Baskin-Robbins locations in the United States and about 5,000 locations internationally. Baskin-Robbins is a more seasonal business and experiences higher sales during the spring and summer seasons.