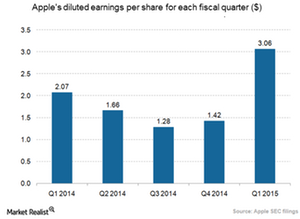 AQR Capital Increases Holdings in Apple
AQR Capital's holdings in Apple
In 4Q14, AQR Capital raised its holdings in Apple (AAPL) by increasing the number of shares held in the company by 18% from 5,399,779 to 6,363,355. The company constituted 1.46% of the fund's fourth-quarter portfolio.
Article continues below advertisement
Overview of AAPL
Based in Cupertino, California, Apple designs, manufactures, and markets mobile communication and media devices, personal computers, and portable digital music players. The company also sells a variety of related software, services, peripherals, networking solutions, and third-party digital content and applications.
AAPL's products and services include the iPhone, iPad, Mac, iPod, Apple TV, iCloud, and the iOS and OS X operating systems. The company also sells and delivers digital content and applications through the iTunes Store, App Store, iBooks Store, and Mac App Store.
AAPL is part of the Technology Select Sector SPDR Fund (XLK) with an exposure of 18.08% and the iShares US Technology ETF (IYW) with a stock weight of 18.82%.
2014 product launches
In 1Q14, AAPL introduced iPad Air, its fifth-generation iPad. The company also debuted its iPad mini with Retina display.
At its Worldwide Developer Conference in June 2014, AAPL announced iOS 8 and OS X Yosemite.
In September 2014, the company released iOS 8 and launched iPhone 6 and iPhone 6 Plus. AAPL announced Apple Pay, which became available in the US in October 2014, and previewed Apple Watch, which the company expected to make available in early 2015.
In October 2014, AAPL introduced iPad Air 2, iPad mini 3, iMac with Retina 5K Display, and an updated Mac mini. The company also released OS X Yosemite.
Article continues below advertisement
Arrival of the Apple Watch generation
Recently, AAPL unveiled the release dates and full specifications for its watch. On March 2, 2015, the results of a survey conducted by Fortune appeared on the magazine's website. The results indicated that projected Apple Watch sales for 2015 ranged from 8 million to 41 million with an average of 22.47 million. The research firm Strategy Analytics expects the market for wearables to be "ignited" with the launch of the Apple Watch. Customers would be able to connect the device with their iPhones and use a wide range of apps, especially those related to fitness and health.
The Apple Watch would face stiff competition from existing products in the market, including the LG G Watch R and the Motorola Moto 360. The Google (GOOG) Android Wear platform powers both of the latter smartwatches. The Samsung Gear S is another major contender in the smartwatch market. However, AAPL's strong brand name and its large universe of apps are almost certain to ensure healthy sales for the Apple Watch.
1Q15 results
In February 2015, AAPL announced its 1Q15 results. Once again, the results beat all analysts' estimates. Strong performance in the December quarter resulted in revenues of $74.6 billion. These results comfortably beat the company's own midpoint estimates of $65 billion and analysts' expectations of $67.3 billion.
The increase in diluted earnings per share (or EPS) was even more dramatic. AAPL's diluted EPS of $3.06 was way above analysts' expectations of $2.58.
AAPL's debt-to-equity ratio is 0.3x compared to 0.2x for Microsoft (MSFT) and 0.3x for Sony (SNE).
In the next part of this series, we will cover AQR Capital's enhanced position in Johnson & Johnson (JNJ).