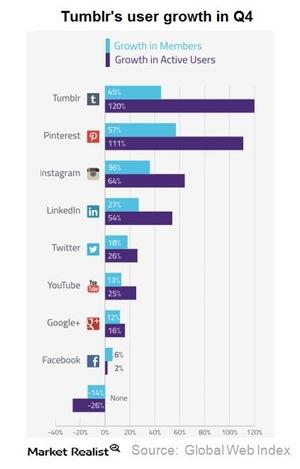 Yahoo's Tumblr Outshines Instagram in User Growth
Yahoo's Tumblr beats Instagram
In the previous part of this series, we looked at Yahoo's (YHOO) native ads revenue and mobile ad revenue growth in 4Q14. In this part of the series, we'll take a look at the growth of Yahoo's Tumblr.
Yahoo acquired Tumblr in 2013 for $1.1 billion. Tumblr is one of the fastest growing media networks in the world. Its tremendous popularity and engagement among creators, curators, and audiences of all ages bring a significant new community of users to Yahoo's network.
You can read more about this deal in Market Realist's article Why Yahoo's acquisition of Tumblr generated revenue.
According to Global Web Index's November report, Tumblr overtook Instagram as the fastest growing social network over the last six months. That growth continued in 4Q14. Tumblr's active user base in the last six months grew by 120%. Facebook's (FB) grew by only 2%.
Tumblr's user base rose from 420 million in 3Q14 to 460 million in 4Q14, up 9% quarter-over-quarter. In comparison, Facebook's Instagram users grew to 300 million in 4Q14, and Twitter (TWTR) gained only 4 million monthly active users in 4Q14 for a total of 288 million users.
Mobile app usage continues to be a key growth driver, with mobile app users up 33% year-over-year. During the earnings conference call, Yahoo's management said that 75 of the Advertising Age Top 100 advertisers have a presence on Tumbler, and 56 of the 75 spend on Tumblr.
Investments in mobile, video, native, and social have thus generated more than $1.1 billion of GAAP (generally accepted accounting principles) revenue in 2014 and 95% growth year-over-year.
Article continues below advertisement
Yahoo's plans for Tumblr
According to Business Insider, Yahoo plans to make Tumblr similar to YouTube. Yahoo's executives are trying to convince several of Google's (GOOG) top YouTube stars to make Tumblr their exclusive video distributor. Yahoo wants them to set up new channels on Tumblr.
Yahoo told video creators and video owners that Yahoo can help them earn better profits than what they make on YouTube. Yahoo said it can do this either by improving ad revenue or by offering guaranteed ad rates for their videos.
To gain portfolio exposure to Yahoo, investors can consider the iShares Core S&P 500 ETF (IYW). Yahoo makes up 1.1% of the IYW portfolio.