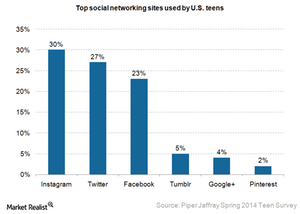 Why Yahoo's acquisition of Tumblr generated revenue
By Patricia Garner

Jan. 26 2015, Updated 9:52 a.m. ET
Yahoo's acquisition of Tumblr
In May 2013, Yahoo announced that it planned to acquire Tumblr, a blogging site, for $1.1 billion. Tumblr is one of the fastest-growing media networks in the world. It has more than 300 million monthly unique visitors. It has 120,000 signups every day. Tumblr sees 900 posts per second. 24 billion minutes are spent on the site each month.
On mobile, more than half of Tumblr's users are using the mobile app. On average, users do seven sessions per day. Its tremendous popularity and engagement among creators, curators, and audiences of all ages brings a significant new community of users to Yahoo's network.
Yahoo's press release said that the combination of Tumblr and Yahoo will grow Yahoo's audience by 50% to more than 1 billion monthly visitors. It will grow traffic by ~20%. Together, the two companies will create advertising opportunities for emerging and established brands.
Yahoo (YHOO) said that Tumblr's audience grew 40% since its acquisition 16 months ago. It grew from 300 million users to 420 million users. The number of registered blogs also nearly doubled from 105 million to 206 million. For the mobile app, the mobile monthly users grew by 50%.
Article continues below advertisement
On the third quarter earnings call, Yahoo's CEO, Marissa Mayer, mentioned that the number of monthly active users on Yahoo and Tumblr exceeds 1 billion users. This is an increase of 6% over the last year. Yahoo's competitor, Twitter has 284 million monthly active users that engage with its platform. To learn more, read Twitter plans to be the largest platform in the world by audience.
Since Tumblr's acquisition 17 months ago, mobile traffic is growing faster. Across Yahoo and Tumblr, on a device basis, there are more than 550 million mobile monthly active users.
Yahoo's plans for Tumblr
According to Business Insider, it's believed that Yahoo envisioned a plan to make Tumblr similar to YouTube. Yahoo's executives are trying to convince several of Google's (GOOG) (GOOGL) top YouTube stars to make Tumblr their exclusive video distributor. Yahoo wants them to set up new channels on Tumblr.
Yahoo told video creators and video owners that they can help them earn better profits than what they make on YouTube—either by improving the ad revenue or by offering guaranteed ad rates for their videos.
Top social networking sites used by US teens
Teenagers are becoming an important demographic for social networks. According to a survey on 7,500 US teenagers conducted by Piper Jaffray this year, Instagram, Twitter (TWTR), and Facebook (FB) were the three most popular social networks among teenagers. Tumblr, Google+, and Pinterest were less popular social networks.
With Yahoo's acquisition of Tumblr, the company gets to tap the younger generation and millennials. These demographics will be key to Yahoo's future.