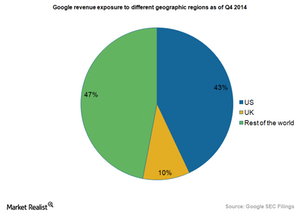 Currency Issues Upset Google's Revenue Growth
Google earns about 57% of its revenues from international markets
In Part 1 of this series, we noted that Google's (GOOG) (GOOGL) 4Q14 earnings were impacted by currency issues. We also learned that Google's year-over-year revenue growth rate in 4Q14 declined to 15%, mainly due to currency issues. Otherwise, the growth rate could have been 18%.
Google is highly exposed to European and Asian markets. In 4Q14, Google earned about 43% of its revenue from the US market, 10% from the UK market, and 47% from the rest of the world, as the chart below shows. This goes to show that Google earns a substantial amount of revenue from international markets, which is a big contributing factor to the currency impact that Google has to bear.
Article continues below advertisement
Article continues below advertisement
US dollar appreciation impacting the technology sector overall 
The US dollar is on a tear. It hit a 12-year high against the euro recently and a seven-and-a-half-year high against the yen earlier this month, according to Bloomberg.
Lately, the euro has slumped considerably against the US dollar due to softening economic growth and geopolitical issues in Greece and between Russia and Ukraine. The euro has slipped further since the announcement of QE (quantitative easing) by the European Central Bank.
The Japanese yen has also weakened since September 2012. The BoJ (Bank of Japan) continues to pump liquidity into the Japanese economy (EWJ).
Alongside Google, the overall large-cap technology sector is suffering from the US dollar's appreciation. Recently, Microsoft (MSFT) announced that it expects a 4% hit to its revenue growth due to the US dollar's appreciation in the quarter ending in March 2015. Apple (AAPL) also reported that it expects to take a 5% hit to its revenue in the March-ending quarter due to currency headwinds. Facebook (FB) announced that it expects its revenue to be affected by 5% in 2015 due to foreign exchange issues.