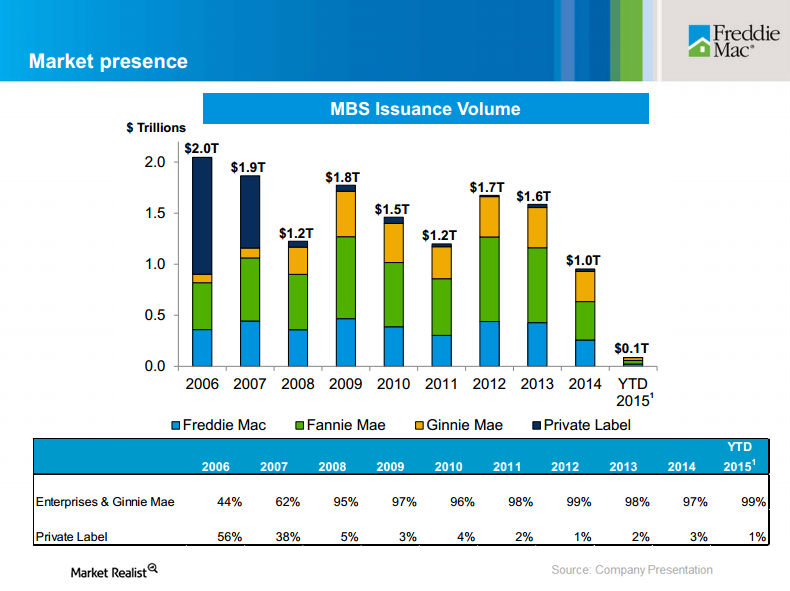 An Update on Fairholme's Positions in Fannie Mae and Freddie Mac
Fairholme's investments in Fannie Mae and Freddie Mac
From the third quarter of 2014, Fairholme decided not to disclose its preferred equity positions in Government Sponsored Entities (or GSEs), Fannie Mae (FNMA), and Freddie Mac (FMCC). Fairholme continues to remain invested in these two GSEs.
According to a letter drafted to its shareholders in 2015, Fairholme Capital holds sizable stakes in these two entities in all three funds. The largest of the funds, the Fairholme Fund (FAIRX), has an allocation of 4.5% in Fannie Mae and 3.5% in Freddie Mac.
Article continues below advertisement
Lawsuit went in favor of the government
Fairholme Capital and a few other hedge funds lost a lawsuit filed against the US federal government in October 2014. The lawsuit was filed against the government for taking full claim on all profits earned by Fannie Mae and Freddie Mac.
Had the ruling gone in favor of the hedge funds, the federal government would have been legally forced to share its profits with private entities that had an ownership position in the GSEs. The unfavorable ruling had a significant role in FAIRX's 2.72% loss in 2014.
Berkowitz's investment thesis
Bruce Berkowitz views Fannie Mae and Freddie Mac as the dual cornerstone of the American way of life, as they provide liquidity and stability to America's housing finance system. The GSEs have recovered from the crisis of 2008–09, as they have returned to simpler, low-risk business models that has enabled them to deliver $36 billion to the US Treasury since the bailout.
The Treasury's current payoff from Fannie Mae and Freddie Mac is more than three times than that of all the other financial rescue programs of the Treasury put together, making this the nation's most successful equity investment. Berkowitz believes that the two entities are highly valuable and expects them to generate earnings of at least~$21 billion a year under various scenarios going forward.
Investors seeking to gain exposure to investment-grade mortgage-backed pass-through securities issued by the GSEs can consider investing in the iShares MBS ETF (MBB).