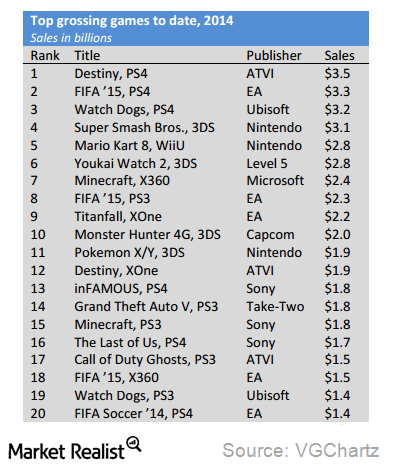 EA's Sports Titles Continue to Lead – FIFA 15 and Madden NFL
Sports titles continue to lead
In 3Q15, Electronic Arts (EA) managed to report good revenue growth due to its major sports titles—Madden NFL mobile and FIFA 15 Ultimate Team mobile. Together, these titles reported 45% more monthly active players in 3Q15—compared to 3Q14.
According to VGChartz, ~15.65 million units of FIFA 15 were sold as of January 3, 2015. Sony's (SNE) PlayStation 4 and PlayStation 3 led FIFA 15 sales with 5.79 million and 4.30 million units, respectively. FIFA 15 sales on Microsoft's (MSFT) Xbox One were nearly 1.8 million units.
FIFA 15 and Madden NFL were launched in September and August 2014, respectively. Europe accounted for almost 60% of the FIFA 15 unit sales on PlayStation 4. Its weekly unit sales increased by nearly 40% and 70% in the last two weeks of November, respectively.
FIFA 15 was ranked first and tenth in Europe and the US in 2014, respectively. You can see this in the following chart. EA claimed that there were 50% more gamers logging in each week on a year-over-year, or YoY, basis.
You can consider investing in the Technology Select SPDR (XLK) to gain exposure to EA. It accounts for about 0.47% of XLK.
Article continues below advertisement
Article continues below advertisement
Madden NFL
According to VGChartz, EA's Madden NFL was ranked second in North America. Activision's (ATVI) Destiny was the game with the highest revenue in 2014. The gameplay hours for Madden NFL increased by 30% on a YoY basis. To date, it sold over 5.4 million units. North America accounted for 87% of the total sales.
Both the sports titles, FIFA 15 and Madden NFL, are expected to hit the company's franchises. EA claimed that it was ranked as the best publisher on Microsoft Xbox One and Sony PlayStation. The top ranking was due to the success of these titles.
Why is it important for game publishing companies to have a hit franchise? Why does it impact their growth prospects? We'll discuss this later in this series.