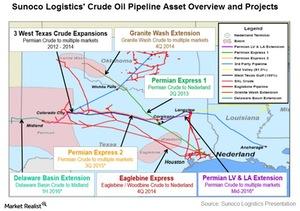 Crude Oil Pipeline Is a Major Segment for Sunoco Logistics
An overview of the crude oil pipeline segment
In the crude oil pipeline segment, Sunoco Logistics (SXL) runs 5,800 miles of crude oil pipelines and approximately 500 miles of crude oil gathering lines. Sunoco Logistics' crude oil pipelines are in the southwest and midwest United States, including Texas and Oklahoma. Its pipelines connect Cushing in Oklahoma, the largest trading hub for crude oil in the United States.
Article continues below advertisement
Three pipeline assets
The Crude Oil Pipeline segment is a major segment of Sunoco Logistics' business. The three components of Sunoco Logistics' crude oil pipeline segments are as follows:
The West Texas Gulf Pipe Line Company (SXL's subsidiary) runs from Colorado City to Goodrich and Longview, Texas.
The Mid-Valley Pipeline Company (SXL's controlling interest) is a 1,000-mile pipeline that will connect a number of refineries through Texas, Louisiana, Arkansas, Mississippi, Tennessee, Kentucky, Ohio, and Michigan.
SXL owns 50% of the SunVit Pipeline. The other 50% is owned by Vitol. The pipeline will connect Midland, Texas and Garden City, Texas. This pipeline will also connect the Permian Express 2 pipeline to add more capacity to the Permian Basin takeaway capacity.
Regulation
The Railroad Commission of Texas, the Oklahoma Corporation Commission, and the Federal Energy Regulatory Commission regulate Sunoco Logistics' pipeline tariffs.
Value drivers
The factors that drive crude oil pipelines assets' profitability include transportation charges, access to crude oil supply, market demand, and changes in refineries' crude oil sources. Some of these factors also affect other energy master limited partnerships with crude oil transportation businesses such as Energy Transfer Partners (ETP), ONEOK Partners (OKS), and Enterprise Products Partners (EPD). Enterprise Products Partners makes up 10% of the Alerian MLP ETF (AMLP).
In the following section, we'll discuss Sunoco Logistics' crude oil acquisition and marketing segment assets.