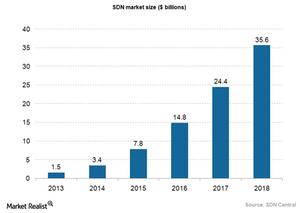 Cisco Acquired Insieme to Focus on the Important SDN Trend
Cisco has started to focus on the SDN trend
In the previous part of this series, we touched upon Cisco's (CSCO) key growth areas. One of these growth areas is the company's software-defined networking (or SDN) focus. Cisco is a relatively new player in this market. It introduced the Cisco Open Network Environment, or Cisco ONE, in 2012. In November 2013, Cisco responded to the SDN trend by introducing its application-centric infrastructure (or ACI).
Article continues below advertisement
Article continues below advertisement
ACI is a data center networking architecture designed to deliver business and other applications to end users in a cost-effective way. ACI comprises Cisco's Nexus 9000 switches, a policy model, and an application policy infrastructure controller (or APIC). Cisco built this initiative on technology developed by Insieme Networks.
Insieme's is an interesting story. Cisco already had a stake of 85% in Insieme and had invested $135 million in this company. However, in November 2013, Cisco completely acquired the remaining stake in Insieme for $863 million. By leveraging Insieme's technology, Cisco successfully managed to partner with companies such as IBM (IBM), Microsoft (MSFT), and SAP (SAP) through its SDN effort.
Cisco's competitors are looking to leverage the SDN market's growth prospects
VMware (VMW) bought SDN vendor Nicira for a valuation of $1.26 billion in 2012. After completing this acquisition, VMware named its SDN platform "NSX." The platform leveraged Nicira's technology. Juniper Networks (JNPR) similarly bought SDN vendor Contrail and launched an SDN controller named "OpenContrail."
These players are trying to tap the growth prospects that the SDN market offers. According to a report from SDN Central and as the chart above shows, the SDN market could grow from $3.4 billion in 2014 to $35.6 billion in 2018 at a compound annual growth rate of 80%.
If you're bullish about Cisco's prospects in the SDN market, you could invest in the PowerShares QQQ Trust, Series 1 (QQQ). QQQ invests about 3% of its holdings in Cisco.