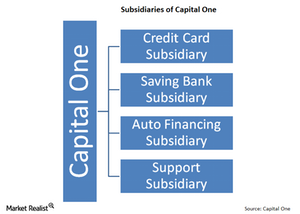 What are Capital One's three main subsidiaries?
By Saul Perez

Mar. 5 2015, Published 9:26 a.m. ET
Capital One has three main subsidiaries
Now, we'll briefly look at how Capital One (COF) is structured. This will help us understand the bank better. Capital One is organized into subsidiaries. It has three major subsidiaries:
Credit card
Savings bank
Auto financing
Article continues below advertisement
Credit card subsidiary 
Capital One's principal subsidiary is a limited purpose credit card bank. It's chartered in Virginia. This is Capital One's oldest subsidiary. It was the bank's original business. It's still the highest earning subsidiary.
Savings bank subsidiary
Capital One's second major subsidiary is a federally chartered savings bank. It offers retail and commercial banking products—like deposits and loans. Over the years, the subsidiary grew in prominence. The acquisition of Hibernia, as discussed in the last part of this series, was the springboard for the bank to increase this line of business. In this business, it faces good competition from Wells Fargo (WFC), PNC Bank (PNC) and U.S. Bank (USB). All of these banks are a part of the Financial Select Sector SPDR (XLF).
Article continues below advertisement
Auto financing 
Its third major subsidiary is Capital One Auto Finance, Inc. It provides automobile financing. It was Capital One's first diversified business. The bank used the experience it had in building a strong card franchisee to diversify into auto financing. This subsidiary focuses on a type of loan that's a focus area for the bank. This focus paid off over the years. Capital One has a high market share. It's the third largest auto financier in the US.
Capital One also has a support subsidiary
Capital One has one more subsidiary—Capital One Services, Inc. It provides administrative, operating, and accounting services to Capital One's other subsidiaries.