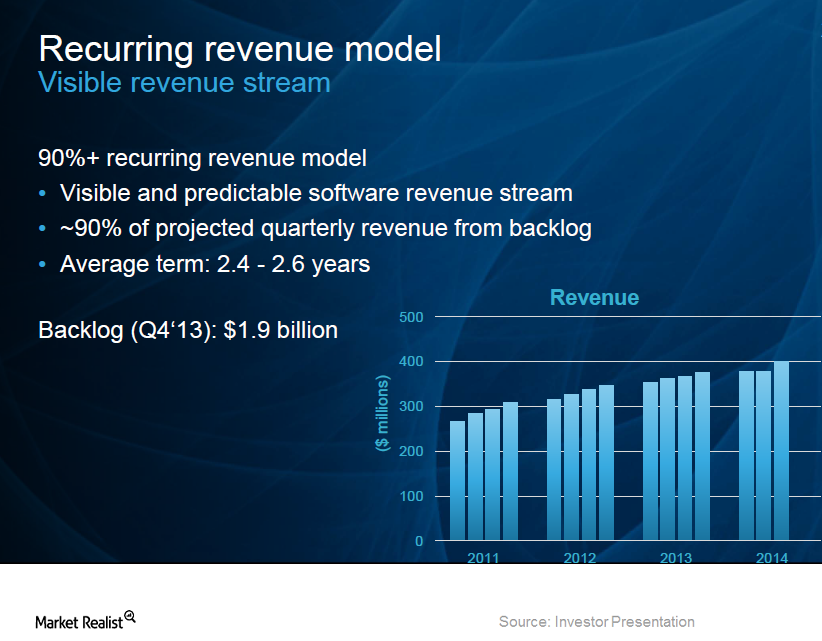 How Cadence generates a steady revenue stream
Consistent revenue stream
Cadence Design Systems (CDNS) and its peers Synopsys (SNPS) and Mentor Graphics (MENT) receive revenue from the following modes:
licensing software and intellectual property (or IP)
leasing emulation hardware technology
collecting Maintenance revenue for software, emulation hardware, and IP
revenues from providing engineering services
earning royalties from the use of IP
Revenues are recognized over multiple periods due to a higher mix of contractual arrangements. As discussed earlier, nearly 90% of Cadence's revenue tends to be visible and recurring in nature.
Article continues below advertisement
Article continues below advertisement
Acquisitions, new business drive revenue growth
In fiscal 2014, Cadence Design Systems witnessed revenue growth of 8.3%, as revenues increased to $1.58 billion from $1.46 billion in the prior year. The revenue increase was primarily due to a $121 million increase in Product and Maintenance revenue. In turn, this was driven by increased business levels, thanks to new business partnerships with ARM Holdings (ARMH), Taiwan Semiconductor Manufacturing Company (TSM), and Microsoft (MSFT), among others. Incremental revenues from recent acquisitions also drove revenue increases.
From a geographic standpoint, Cadence experienced revenue growth in all its areas of operations except Japan, where revenue decreased by ~$20 million due to currency depreciation.
Cadence grew faster than its peers
Over the last five-year period, Cadence and its competitors saw year-over-year revenue growth. Aggressive acquisitions and a focus on systems enabled Cadence to grow its revenues at a faster pace than its competition in the last five years. The company's revenue rose at a compounded annual growth rate of 14% in comparison to Synopsys (SNPS) and Mentor Graphics (MENT), which grew by 11% and 9.5%, respectively, over the same period.
Investors seeking to gain exposure to Cadence Design Systems (CDNS) can consider the Vanguard Information Technology ETF (VGT), which has an allocation of 0.13% for CDNS.