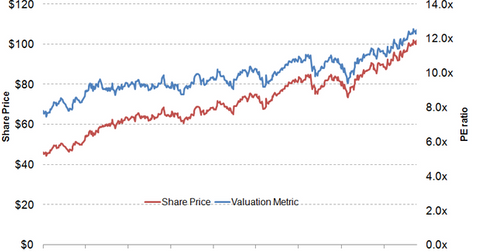 Aetna's Valuation Compared to Its Peers
By Margaret Patrick

Nov. 20 2020, Updated 4:13 p.m. ET
Valuation
The private insurance industry's (XLV) core business involves providing medical risk protection in exchange for predetermined payments. Investors use the PE (price-to-earnings) ratio to analyze the performance of a health insurance company over time.
Aetna (AET) released its fourth quarter earnings on February 3, 2015. The graph shows that its share price rose by about 4.1% from $92.20 on February 2, 2015, to $96 on February 04, 2015, after the release. The company's PE ratio increased from 11.4x to 11.9x on the day after the earnings release. The ratio increased because Aetna's earnings performed in line with analysts' expectations.
Article continues below advertisement
Aetna's valuations compared to its peers
In 4Q14, among the leading health insurance companies, Cigna (CI) earned the highest net income margin. It was followed by UnitedHealth Group (UNH), Aetna, and Humana (HUM). Despite having a net income margin lower than all of its peers, Humana had the highest forward PE ratio. Humana and UnitedHealth Group approved share buyback programs. Combined with dividends, this leads to higher shareholder returns. The share buyback programs also reduce the number of outstanding shares. This increases the EPS (earnings per share) for the remaining shareholders.
Cigna has a higher net income margin than UnitedHealth Group and Humana. It has relatively lower valuations. The company doesn't provide any guidance for its future share repurchase program. As a result, investors aren't able to consider the impact of the reduced number of outstanding shares on the company's EPS.
However, Aetna's valuations were lower than its peers in 4Q14. With Aetna investing in growth initiatives and working to gear its business mix more towards government-sponsored business, the valuations are expected to rise in 2015.
For the latest updates, visit Market Realist's Healthcare page.