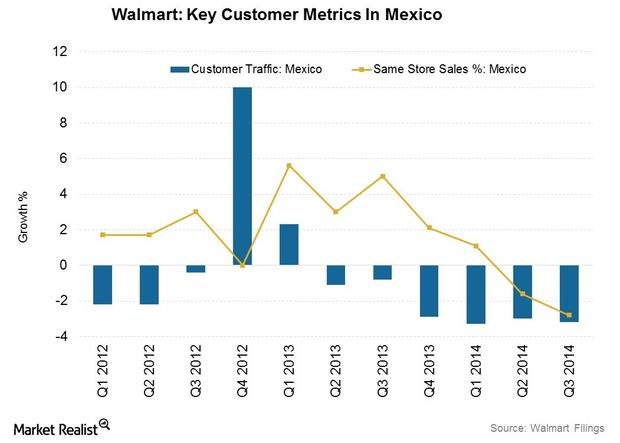 Walmex – Walmart's Recent Initiatives In Mexico
Walmex
With 2,245 retail outlets in the country, Mexico is the largest international market for Walmart (WMT)—in terms of store count. The retailer (XRT) entered the Mexican market in 1991. This was its first international foray. Walmart runs operations in the country, through its publicly listed, majority-owned subsidiary Walmart de México, S.A.B. de C.V.—or simply Walmex.
In recent years, Walmart's performance in Mexico suffered due to slow economic growth in the country. Comp sales were negative for several quarters in fiscal year 2014. In particular, Walmart's Sam's Club segment showed softness. This affected Walmex's performance.
Article continues below advertisement
Revised strategy
Due to the uncertain environment, Walmart scaled back its expansion plans in Mexico. Walmart pushed back 15 store openings from 2014 to January–February 2015. It's looking more at remodeling existing stores—like it did in Canada and the US—instead of expanding its store footprint through new store investments.
The square footage increase in Mexico and Central America was lowered to 4.4% in 2014—compared to the 5.2% increase that was initially projected. This will likely result in higher store productivity.
E-commerce advantage
Walmex is also looking at higher sales through the e-commerce channel. It launched e-commerce in Mexico in 2013. The growth has been moderate. The retailer attached ~150 kiosks to its stores. Customers can use the kiosks to order online and pay at the stores. Customers can also have the products delivered at home. This is a safer option—compared to using credit cards online. Customer don't have to fear a data breach.
There have been recent data breaches at Target (TGT), Staples (SPLS), and Home Depot (HD). The breached data compromised the personal data for millions of accounts. To learn more read, Retailers' Data Breach Dampens Christmas Cheer.
Sam's Club
Walmex is also trying to improve the performance of its wholesale Sam's Club operations. It's creating value for customers by providing greater product differentiation in merchandise, importing more goods from Sam's Club in the US, and reducing excess or older inventories. Also, due to underperformance, it's slowing down its expansion plans for the segment.
Going forward, Walmart will continue to try and offer competitively priced merchandise in Mexico. The company's rate of price increases is lower than the national inflation average.