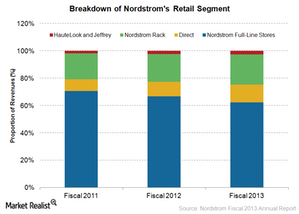 Understanding Nordstrom's revenue streams
Key segments
Nordstrom has two reportable segments—Retail and Credit. The Retail segment comprises Nordstrom full-line stores, Nordstrom.com, Nordstrom Rack, HauteLook, and Jeffrey. The Credit segment provides customers several payment products and services, including a Nordstrom private-label card, two Nordstrom VISA credit cards, and a debit card for Nordstrom purchases. This segment generates revenues from finance charges and other fees on these cards.
In fiscal 2013, the Retail segment contributed 97% of Nordstrom's revenues, while the Credit segment accounted for only 3%. Nordstrom is contemplating the sale of its $2.2-billion portfolio of credit card receivables so that the company can use the proceeds to buy back shares.
Article continues below advertisement
Retail segment revenues
Nordstrom's core category of full-line stores accounted for 62% of Retail segment revenues. However, full-line store revenues have been gradually declining over the years due to increasing off-price Nordstrom Rack revenues and growing Direct or online business.
In fiscal 2013, Direct business and Nordstrom Rack stores accounted for 13% and 22%, respectively, of Retail segment revenues. HauteLook's online business and Jeffrey boutiques made up 3% of Retail segment revenues.
Other department stores like Macy's (M), Neiman Marcus, Dillard's (DDS), and Kohl's (KSS) have also been expanding their e-commerce businesses. Nordstrom and its peers are part of the Consumer Discretionary Select Sector SPDR Fund (XLY), which has 6.21% holdings in such multiline retailers.
Dominant merchandise category
Women's apparel and accessories accounted for 31% and 14%, respectively, of fiscal 2013 net sales. Shoes contributed 23% of fiscal 2013 net sales and men's apparel made up 16%. Cosmetics and kids' apparel accounted for 11% and 3%, respectively, of net sales.
Nordstrom is attracting customers through concepts like pop-up shops. These are short-term stores that attract more customers. In January 2015, Nordstrom opened Zone Zella pop-up shops in select stores to sell apparel and workout accessories from Zella, the company's private label activewear brand. Nordstrom has also significantly expanded its online merchandise offerings.