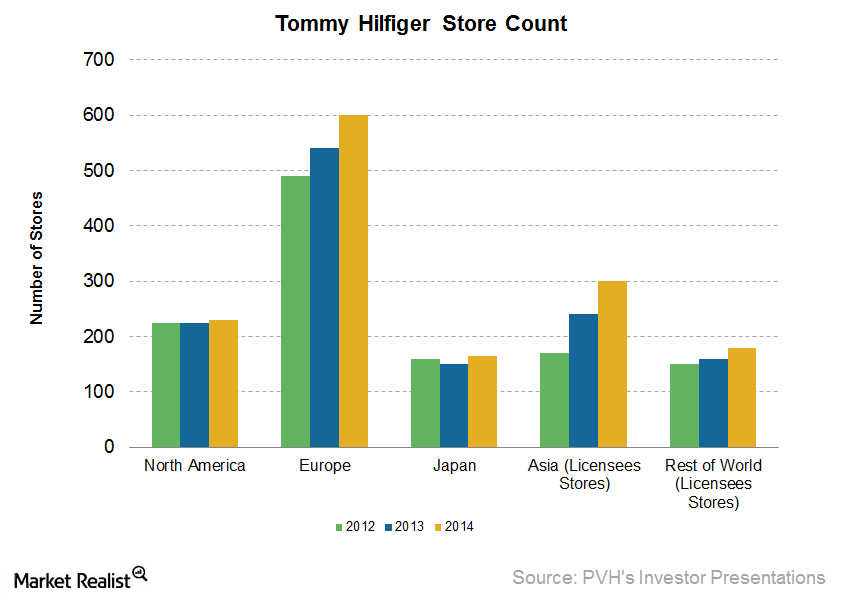 Tommy Hilfiger—the proven lifestyle brand
Background
Tommy Hilfiger was founded in 1985. Along with Calvin Klein, it's one of PVH's two flagship brands. In 2010, PVH Corp. (PVH) acquired Tommy Hilfiger for approximately $3 billion. At the time, it was the largest business combination in the clothing and apparel industry. The acquisition was a good fit for PVH. Both entities shared a similar culture. It gave it a better platform to grow internationally.
For 2013, Tommy Hilfiger's global retail sales were $6.4 billion. PVH booked revenue of near $3.5 billion in 2013. The difference can be explained by licensee revenue of approximately $2 billion. PVH only gets to report about 5% of the revenue on its books.
The remaining portion is earned through the joint venture model in places like India, China, Asia-Pacific, and Australia. PVH reports its share of profits or losses from these joint ventures as single line item income from unconsolidated entities in its income statement.
Article continues below advertisement
Brand overview
Tommy Hilfiger is viewed as a premium, but accessible brand. Over the years, the brand positioned its designs as "classic American cool with a preppy twist" through its marketing campaigns. PVH spends about $175–$185 million on annual marketing to enhance Tommy Hilfiger's brand equity.
Promotional marketing campaigns are executed through TV commercials, fashion shows, billboards, and digital initiatives. Its main competitor is Ralph Lauren (RL). It has a similar brand positioning and target consumer base.
Product assortment
The brand's portfolio can be categorized into two parts—Tommy Hilfiger and Hilfiger Denim—based on the target demographic group.
Tommy Hilfiger's target demographic is the 25–45 year old consumer with an annual household income of over $50,000. Its product assortment includes sportswear for men and women, eyewear, men's tailored clothing, athletic apparel, handbags, and leather goods. The average unit retail price for the Tommy Hilfiger brand is ~$120.
The Hilfiger Denim brand is targeted at the 25–30 year old demographic with a household income of $30,000–$50,000. The product line includes casual apparel with a focus on premium jeans for men and women, footwear, bags, accessories, eyewear, and fragrance. The average retail price for the Hilfiger Denim brand is ~$80.
Tommy Hilfiger's distribution network
Since the acquisition in early 2010, the total number of stores increased from 1,002 to ~1,475. Most of the increase came from its European operations. Currently, Tommy Hilfiger's product line is distributed in over 1,475 stores globally. A little over 40% of the stores are company-operated, full price specialty and outlet stores.
Specialty stores are larger stores in upscale locations. They're intended to enhance the brand's value. They provide the company with higher revenue and earnings. In contrast, outlet stores have specially designed merchandise offered at lower price points. They're primarily used to clear excess inventory from previous seasons.
PVH and other apparel companies—like Coach Inc. (COH), Ralph Lauren (RL), Michael Kors (KORS), and VF Corp. (VFC)—are part of the Consumer Discretionary SPDR ETF (XLY). XLY holds 0.42% of its portfolio in PVH, 0.47% in Coach and Ralph Lauren, 0.66% in Michael Kors, and 1.13% in VF Corp.
When this post was originally published, it indicated that when PVH acquired Tommy Hilfiger in 2010, it was the largest business combination. We have since update the post to indicate that it was the largest business combination in the clothing and apparel industry. We regret this error.