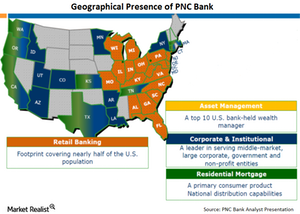 Does PNC Bank remain a strong long-term play?
US banking is dominated by the Big Four
The banking landscape in the US is largely dominated by the Big Four banks: JP Morgan Chase, Bank of America, Wells Fargo (WFC), and Citibank. These banks have a presence in most states and have large franchisees. This strong network helps these banks to attract and retain more customers. Their advantages include having a relatively lower cost of funding and the ability to disburse large ticket size loans.
Article continues below advertisement
PNC Bank: A mid-sized banking powerhouse
There a few highly regarded and well-managed banks of good size outside the Big Four banks. These banks remain strong in their chosen areas of operations and the products they offer. One such bank is PNC Bank (PNC). Other banks similar to PNC Bank are US Bank (USB) and Capital One (COF). These banks form a small but important part of the portfolio of the Financial Select Sector SPDR ETF (XLF).
PNC Bank has a good network in the East, Mid-Atlantic, South, and the Midwest. The bank is particularly strong in Pennsylvania, Delaware, Kentucky, New Jersey, and Ohio.
PNC Bank's focused banking services
PNC Bank does not provide a complete suite of banking services. It primarily provides regional community banking, wholesale banking, corporate banking, and asset management.
In the following articles of this series, we will look at PNC Bank in detail. There are two main ways of analyzing any bank: quantitative analysis and qualitative analysis. Quantitative analysis focuses on analyzing a bank from the perspective of its financial performance and business segments. Qualitative analysis focuses more on long-term and medium-term strategies.
Here, we'll focus on a quantitative analysis of PNC Bank. We will look at the overall performance of the bank with the help of important financial metrics and indicators.