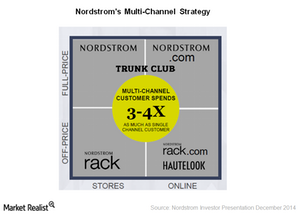 Nordstrom's multichannel strategy, customer focus lead to success
A family-run business
Nordstrom (JWN) is one of the most successful family-run businesses in the US. The following fourth-generation descendants of founder John W. Nordstrom currently manage the company:
Blake W. Nordstrom, chief executive officer
Erik B. Nordstrom, executive vice president and president of Nordstrom Direct
Peter E. Nordstrom, executive vice president and president of merchandising
James F. Nordstrom, Jr., executive vice president and president of stores
Blake, Erik, and Peter Nordstrom are brothers. James F. Nordstrom, Jr., is their cousin.
Article continues below advertisement
Article continues below advertisement
Successful strategies
Over the years, the Nordstrom family has been good at reading consumers' minds. Nordstrom's multichannel strategy and best-in-class customer service have made the company famous.
The company has grown beyond its full-line stores business. After being successful in the luxury retail category, the company saw growth prospects in the off-price or outlet space. The company aggressively expanded Nordstrom Rack stores to attract younger consumers in particular. Today, Nordstrom Rack stores outnumber the company's full-line stores.
Nordstrom also invested in the e-commerce channel, which has now become a key growth driver. The 2011 acquisition of the flash sale site HauteLook has further boosted the online channel.
Customer-centric approach
Nordstrom has seamlessly linked its online and stores businesses, giving consumers the freedom to shop where they want. For instance, consumers can now return their HauteLook online purchases in Nordstrom Rack stores. This helps to increase store traffic.
The company has also been working on making its merchandise more attractive. Nordstrom added more accessible price points in its Savvy department, for example. The department offers brands that sell more quickly.
Also, the company expanded its boutiques for the popular British brand Topshop in full-line stores. In fiscal 2013, the company added 27 Topshop boutiques.
The aforementioned strategies have helped Nordstrom outperform other department stores like Macy's (M), Dillard's (DDS), and Kohl's (KSS). The Consumer Discretionary Select Sector SPDR Fund (XLY) has 0.50% holdings in Nordstrom.