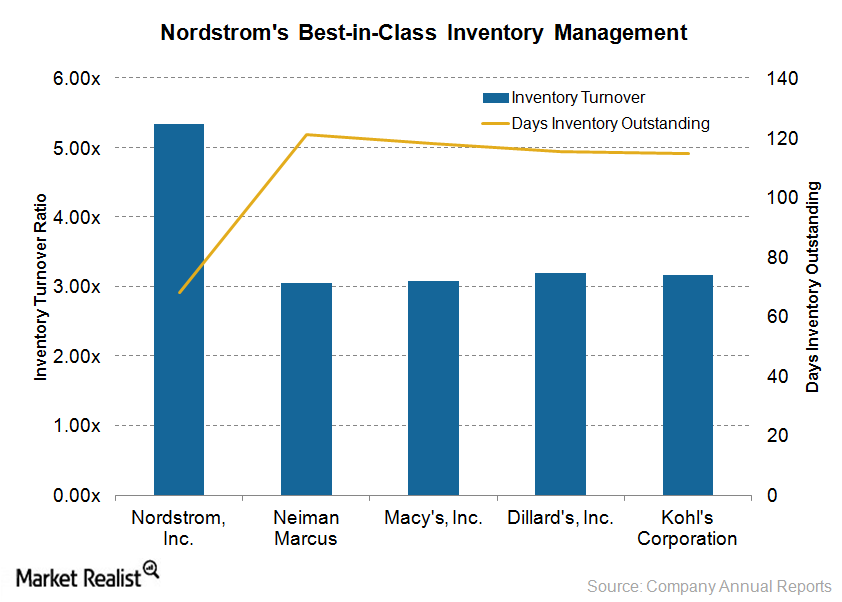 Nordstrom's inventory management better than that of its peers
Optimal inventory levels
Maintaining an optimal level of inventory is crucial for department stores because it helps to ensure the availability of in-demand products. This in turn brings down costs, lowers instances of inventory obsolescence, and avoids out-of-stock situations.
Two figures reflect the efficiency of a company's inventory management: the inventory turnover ratio and days inventory outstanding. The inventory turnover ratio indicates how often inventory gets sold and replaced. Days inventory outstanding measures the average number of days that a company holds its inventory before selling it.
Article continues below advertisement
As shown in the graph above, Nordstrom (JWN) has better inventory management than its peers in the department store industry. Nordstrom has an inventory turnover ratio of 5.35, while the luxury department store Neiman Marcus moves its inventory 3.06 times in a year. Macy's (M), Dillard's (DDS), and Kohl's (KSS) have inventory turnover ratios of 3.08, 3.20, and 3.17, respectively.
Here are some key reasons for Nordstrom's higher inventory turnover:
faster delivery of online purchases through fulfillment centers and Nordstrom stores
procurement of a product that is unavailable in one store from the inventory at another store
incremental sales generated by the Nordstrom Rewards program.
Nordstrom's presence in the off-price segment through Rack stores might also be one of the reasons for the company's higher turnover. Pure-play off-price retailers like the TJX Companies (TJX) and Ross Stores (ROST) turn their inventory more than six times a year.
Nordstrom's days inventory outstanding of 68.01 is way lower than that of its peers. For instance, Neiman Marcus and Macy's have days inventory outstanding of 121.30 and 118.23, respectively.
As of February 11, 2015, the Consumer Discretionary Select Sector SPDR Fund (XLY) had 6.21% holdings in multiline retailers like Nordstrom and its peers.
Year-over-year comparison  
Nordstrom's inventory turnover ratio decreased to 5.35 in fiscal 2013 from 5.93 in fiscal 2012 because of the company's larger investment in pack and hold inventory at Nordstrom Rack stores. The company's strategy to increase its pack and hold inventory involves the purchase of merchandise in advance of upcoming selling seasons. This has been instrumental to the growth of Nordstrom Rack store sales.
The company holds this pack and hold inventory in its warehouses for an average of six months until the next selling season. Pack and hold inventory represented about 11% of fiscal 2013 ending inventory.
Nordstrom is also working on turning its inventory faster by bringing in popular merchandise, opening fulfillment centers, and leveraging store merchandise to meet online orders.