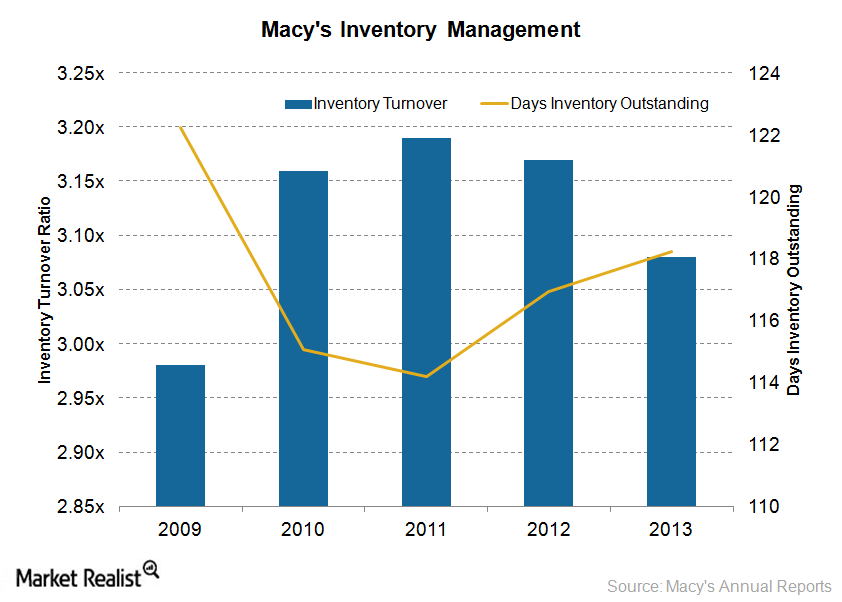 Macy's works on inventory management: Will it improve sales?
Inventory management
Inventory management is very crucial for department stores such as Macy's, Inc. (M). An optimal level of inventory helps bring down costs, lower the instances of inventory obsolescence, and enhance the consumer shopping experience by avoiding out-of-stock situations.
Article continues below advertisement
 Key inventory metrics
It's important for a company to handle its inventory efficiently. Inventory can be measured by inventory turnover ratio and days inventory outstanding. Inventory turnover ratio indicates how efficiently a company is moving its inventory. Macy's inventory turnover ratio declined to 3.08 in fiscal 2013, compared to 3.17 in the prior year.
Macy's department store peers Nordstrom, Inc. (JWN), Kohl's Corporation (KSS), and Dillard's, Inc. (DDS) had inventory turnover ratios of 5.35, 3.17, and 3.20, respectively, in fiscal 2013.
Macy's days inventory outstanding deteriorated to 118.2 in fiscal 2013, from 116.9 in the prior year.
The Consumer Discretionary Select Sector SPDR Fund (XLY) has 1.03% exposure in Macy's.
Macy's efforts to optimize inventory 
Macy's is taking several measures to improve its inventory management. The company's My Macy's strategy ensures that every store has merchandise that caters to consumer preferences in that particular locality. Under the My Macy's program, the company's district merchants and planners help customize merchandise assortments depending on local tastes and requirements. This helps move inventory faster.
Through its store fulfillment strategy, Macy's can ship products that are ordered online or through other stores directly to its customers. The store fulfillment strategy helps the company use inventory efficiently by filling orders for products that are not available at a particular store but can be shipped directly from some other location.
The company's store fulfillment strategy, which was launched in 2010, is now rolled out to all 655 Macy's brand stores. In addition, the company has established five dedicated fulfillment centers and expects to further increase direct-to-consumer fulfillment capacity.