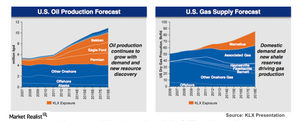 How will KLX Energy Services Group perform in an oil downturn?
By Diana Key

Feb. 4 2015, Updated 1:05 p.m. ET
Farallon disclosed stake in KLX Inc.
Earlier in this series, we learned that Farallon Capital disclosed a 7% stake in KLX Inc. (KLXI) in its 13G filing. KLXI started trading on NASDAQ a month ago, after its spin-off from parent company B/E Aerospace. (BEAV). In previous parts of this series, we discussed BEAV, its spin-off of KLX, and a business overview of KLX Inc. KLX operates in two segments:
Aerospace Solutions Group (or ASG)
Energy Solutions Group (or ESG)
Article continues below advertisement
ESG industry overview
KLX's Energy Solutions Group has a strong presence across key production basins, including the Northeast, Rocky Mountains, Southwest, and the Mid-Continent. Its customers include independent oil exploration and production companies like Marathon Oil Corporation (MRO), Apache Corporation (APA), and Anadarko Petroleum Corporation (APC).
Through its energy services segment, KLX provides the following services and equipment to its customers:
wireline services
fishing (retrieval) services and equipment
pressure control and rental equipment such as frac stacks, accommodations, surface rentals, and other related components
KLX stated that the market for KLX Energy Services products in North America is ~$15 billion. The market is expected to grow at 10% annually. Demand for KLX's products and services is driven by the "number of oil and gas wells drilled and completed each year, and the level of production/work over activity in North America on existing wells."
The US has 223 billion barrels of technically recoverable shale oil reserves and 2,431 trillion cubic feet of recoverable shale gas reserves. However, the current draw-down in oil prices is forcing oil companies to reduce capital spending.
KLX expects higher demand in the US for natural gas, which is gaining popularity as a clean burning fuel. KLX noted, "According to the International Energy Agency's 2014 World Energy Outlook, North America has been at the center of the surge in global investment in recent years and will remain the region with the largest oil and gas investment requirement until 2035."
In the next part of this series, we'll learn about the strengths of KLX Inc. in its two segments.