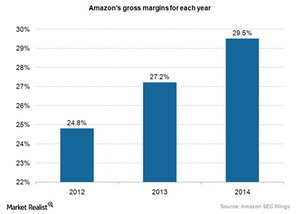 Why Amazon benefits from more third-party sellers
Amazon's gross margins continue to improve
In the previous part of this series, we discussed how Amazon's (AMZN) operating margins improved in the last quarter. However, this improvement hasn't been consistent, unlike Amazon's gross margins. Amazon's gross margins have continued to increase from 24.8% in 2012 to 29.5% in 2014, as the chart below shows.
Article continues below advertisement
The number of third-party sellers on Amazon has doubled since 2006
The main reason for Amazon's gross margin increase was the increasing proportion of third-party sellers who sell their products on Amazon. Amazon mentioned that about 40% of its unit sales now come from third-party sellers. These vendors benefit Amazon, as the company doesn't have to bear any product costs but it gets commissions from these vendors. This is a great source of profit for Amazon, as its gross margins associated with these transactions are 100%.
These small third-party sellers need Amazon, as they need a bigger and more popular platform to sell their products. According to a report from the Wall Street Journal, there are a total of 2 million third-party sellers now on Amazon. This total has doubled from 2006. The report also mentioned that the fees that these sellers pay to Amazon can be anywhere between 6% to 50% of sales.
This strategy is bearing fruit for Amazon in the form of increased gross margins. Brick-and-mortar players such as Walmart (WMT), Best Buy (BBY), and Target (TGT) don't reap this benefit because they have to first buy merchandise and then sell it to their customers.
To get exposure to Amazon, you could invest in the PowerShares QQQ Trust, Series 1 (QQQ), which invests 3.5% of its holdings in Amazon.