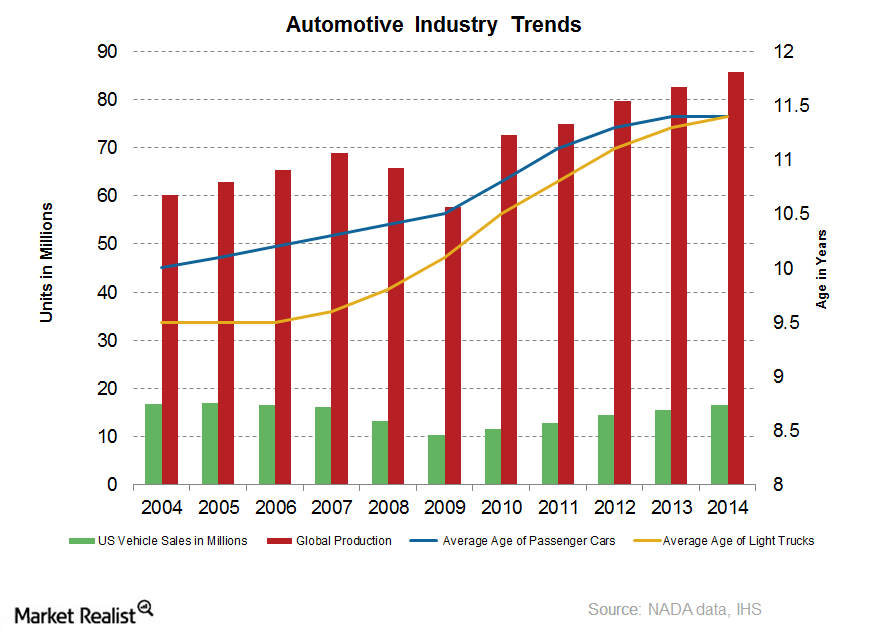 What's in store for Lear and the automotive supplier industry?
By Santiago Solari

Feb. 13 2015, Updated 5:07 p.m. ET
Industry landscape
Lear (LEA) competes with seating and electrical systems suppliers in the worldwide automotive and light truck markets. In 2013, the market for global seat systems was valued at $55 billion with Lear having a ~22% market share, behind only Johnson Controls (JCI), which has a 30% share of the market in terms of sales.
Other competitors include Faurecia SA, Toyota Boshoku Corporation, and TS Tech, which are subsidiaries of Peugeot SA (UG), Toyota (TM), and Honda Motor (HMC). The market for the electrical business is estimated to be about $65 billion with the market divided between Lear, Delphi Automotive (DLPH), Sumitomo Corporation, and Yazaki Corporation.
The industry's major demand drivers are the number of vehicles manufactured by automobile companies and content per vehicle. Automotive sales are primarily driven by age of vehicle fleet, fuel prices, and the cost of credit.
Article continues below advertisement
Automobile production on a growth streak
Having come off a low base, global automobile production has been on an uptrend over the past five years. Automotive production volumes have increased at a CAGR (compound annual growth rate) of 4% over the past five-year period and have reached 85.6 million units.
Going into 2015, IHS Automotive predicts the growth streak will continue with volumes likely to reach 88.6 million, fueled by cheaper availability of credit, lower fuel prices, and increased consumer confidence. From a geographical standpoint, Europe is expected to be adversely affected by the political turmoil in Russia, but the growth in North America and China is likely to more than offset this decline.
Average age of vehicles has hit a plateau
In the US particularly, the economic downturn forced consumers to cut down on spending, which resulted in the average age of vehicles hitting new highs, going past ten years. Over the last two years, the average age of vehicles has remained flat at 11.4 years, due to the improvement in the overall economic climate with higher disposable income and lower unemployment rates. These trends have positively impacted new vehicle sales. As per forecasts from IHS, average vehicle age is expected to remain at this level over the next five years.
The aforementioned trends bode well for automotive parts suppliers such as Lear (LEA). ETF investors can also consider looking into the First Trust Consumer Discretionary Alpha Fund ETF (FXD), which has an allocation of 1.40% for Lear (LEA).