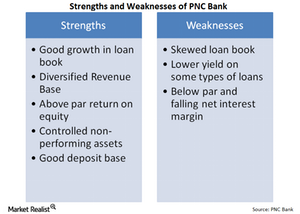 PNC Bank's financial strengths outweigh its weaknesses
By Saul Perez

Mar. 11 2015, Updated 6:04 p.m. ET
PNC Bank has robust growth in loan book
After taking a quick look at the financial analysis of PNC Bank, let's summarize the financial strengths and weaknesses of the bank.
Loans are largest part of assets of PNC Bank (PNC), and its loan book has seen good growth in recent years. However, the loan book is skewed towards commercial and industrial loans and 1–4 Family First Mortgage loans. Commercial and industrial loans also earn lower yields for PNC Bank. This is largely because the bank is not able to price these loans aggressively due to loose monetary policy. On the downside, some of the higher yield loans such as credit cards yield lower than industry averages at PNC Bank.
Article continues below advertisement
PNC Bank diversifies its revenue base
PNC Bank is largely focused on earning interest income, and its dependence increased due to its acquisition of banks that were also highly dependent on interest income. However, in the recent years the bank has taken a leaf out of the books of US Bank (USB) and Wells Fargo (WFC) and increased its non-interest income.
This was further necessitated by falling yields of loans. The addition of branches due to acquisitions improved the franchisee network. All these factors led to increasing non-interest income. Thus, the diversified revenue base de-risks the bank to some extent in times of anemic loan growth.
Still room for improvement in many areas
However, there are many areas where PNC Bank can improve. The bank has done a good job at reducing its non-interest expenses, but the bank's efficiency ratio still remains above 60%. Its peers such as Capital One (COF) have managed these costs better, and PNC needs to further control its non-interest expenses.
The net interest margin of PNC Bank has also fallen below the industry averages. Many banks in the Financial Select Sector SPDR ETF (XLF) have higher net interest margins than PNC Bank. The bank should take steps to improve this.