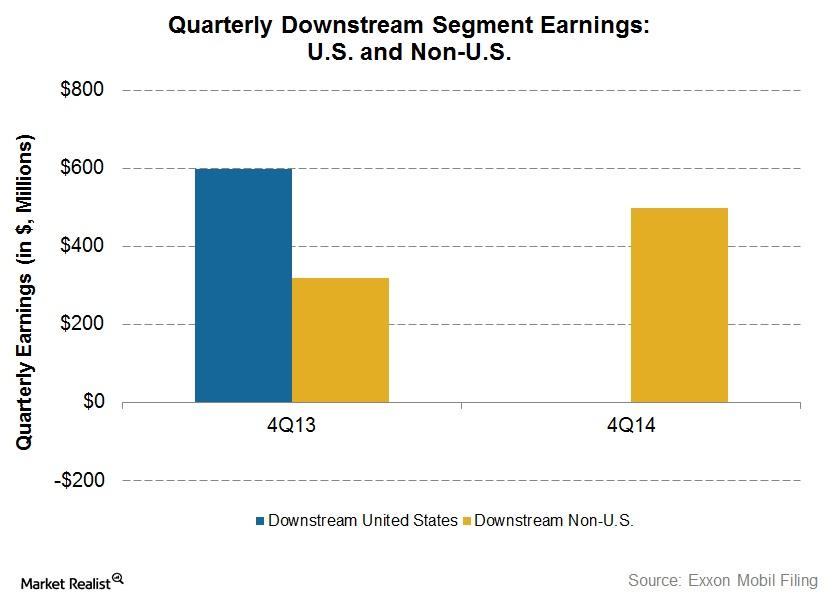 Earnings evaporate in ExxonMobil's Downstream segment
By Alex Chamberlin

Dec. 4 2020, Updated 10:53 a.m. ET
ExxonMobil's Downstream earnings decrease
In the previous part of this series, we looked at ExxonMobil's Upstream segment performance in 4Q14. Here, we'll touch on its Downstream and Petrochemical business segments.
Downstream refers to crude oil refining and natural gas processing and purifying activities.
In 4Q14, ExxonMobil's (XOM) Downstream US operations recorded a $1 million net loss. That's a sharp contrast to the $597 million net profit recorded in 4Q13. Earnings from non-US operations, however, increased 56% to $498 million in 4Q14, up from $319 million in 4Q13.
Overall, ExxonMobil's Downstream business produced 46% less earnings in the fourth quarter of 2014 than in the same quarter a year ago. For more insight into ExxonMobil (XOM), read Must-know: Insight into ExxonMobil's earnings.
ExxonMobil is a component of the Energy Select Sector SPDR ETF (XLE) and the SPDR MSCI World Quality Mix ETF (QWLD). Other integrated energy companies that should benefit from falling crude oil prices include Royal Dutch Shell (RDS.A) and TOTAL SA (TOT).
Article continues below advertisement
Downstream earnings on the downside
These are some of the negative factors influencing ExxonMobil's Downstream segment:
weak US refining margin – a weak demand and overcapacity in the refining sector has put pressure on margins
fewer sales – the company sold 149,000 barrels per day less in petroleum products
adverse foreign exchange movement
unfavorable tax effect
The effect of unfavorable tax and foreign exchange movement effect reduced 4Q14 earnings by $480 million. The US dollar has appreciated considerably over the period, affecting earnings negatively.
Downstream earnings on the upside
A couple of positive factors influenced this segment as well:
stronger refiner margin – this added $820 million to earnings, as falling crude prices kept input costs down in ExxonMobil's (XOM) Downstream operations
volume and mix effect – this added $20 million
Petrochemical business sees gains in 4Q14
On a quarterly basis, Exxon's earnings from its Petrochemical business in the United States increased 3% to ~$832 million, up from $808 million recorded in 4Q13. Earnings from the non-US operations improved dramatically, rising by 286% to $394 million in 4Q14, up from $102 million in 4Q13. Overall, the Petrochemical business produced 35% more earnings in the second quarter of 2014 compared to the same quarter a year ago.
Petrochemical earnings in 4Q14 were positively impacted by lower feedstock costs. Unfavorable volume and mix effect cost the company $60 million. Foreign exchange losses weakened margins by $110 million. Petrochemical product sales decreased in 4Q14 compared to the same quarter a year ago.
ExxonMobil's production hasn't been consistent over the years. Did its production and sales volume figures improve in 4Q14? We'll find out in the following section of this series.