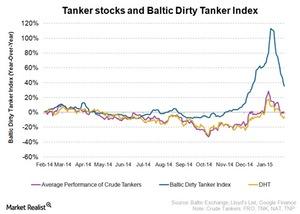 Who is DHT, and what about its strategy for fleet growth?
By Katie Dale

Updated
Post-earnings review
DHT Holdings (DHT) reported its fourth quarter earnings on January 28, 2015. Post-earnings to date, the stock recorded a 6.9% decrease. Other crude tanker peers such as Teekay Tanker Ltd. (TNK), Nordic American Tanker Ltd. (NAT), Frontline Ltd. (FRO), and Tsakos Energy Navigation Ltd. (TNP) recorded 5.04%, 3.01%, 9.4%, and 1.6% decline, respectively, in the same period. The Guggenheim Shipping ETF (SEA) also dipped 79.5% in the same period.
In this series, we'll look at DHT's (DHT) fourth quarter earnings in detail. Highlighting its major financials, we'll take a look at the company's revenue, earnings, expenses, and cash flow scenario as well as its balance sheet structure.
Finally, we'll wrap up the series with analysts' estimates for the upcoming quarter and Wall Street consensus estimated price targets for the company's stock.
Article continues below advertisement
Who is DHT?
DHT Holdings is an independent crude oil tanker company with a fleet that trades internationally and consists of VLCC, Suezmax, and Aframax crude oil tankers. It has integrated management companies in Oslo, Norway, and Singapore.
DHT's experienced team focuses mainly on first-rate operations and customer service. It operates quality ships built at quality shipyards. The ships are employed in a combination of market exposures and fixed income contracts.
With the support of prudent capital structure and positive cash break-even levels, DHT has the ability to stand strong during tougher business cycles.
Strategy for fleet growth
DHT's acquisition of Samco is part of DHT's growth strategy by acquiring vessels or companies with high-quality vessels. As a result of the acquisition, DHT now has a fleet of 20 VLCCs, including six VLCCs under construction at Hyundai Heavy Industries. It also has two Suezmaxes and two Aframaxes.
Samco owns and operates a fleet of seven very large crude oil tankers with an average age of approximately 5.0 years. Five of the vessels are currently on time charters to oil majors. Included in the acquisition transaction was Samco's 50% ownership in Goodwood Ship Management Pte. Ltd., a private ship management company incorporated under the laws of the Republic of Singapore.