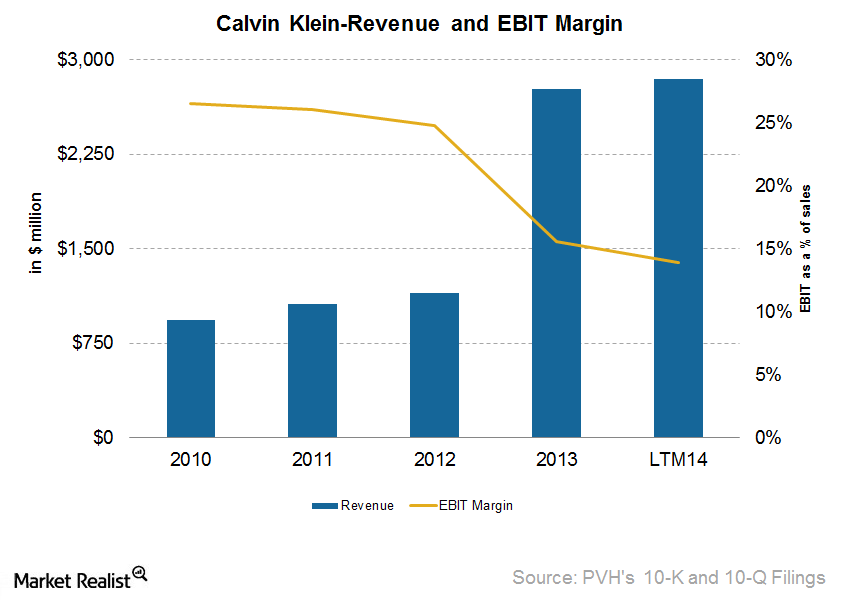 Calvin Klein's financial performance and growth opportunities
Larger scale of operations
As we discussed earlier, the Warnaco merger in 2013 set the wheels in motion for PVH's expansion strategy for the Calvin Klein brand. For the last 12 month period, PVH Corp. (PVH) got 34% of its revenue from the Calvin Klein business. Although the profit margins contracted after the Warnaco merger, with the expanse of its operations, management expects to see some improvement on this front.
Looking at the year-to-date, or YTD, revenue and operating margin trends, the Calvin Klein business grew by $78 million in sales. However, it experienced a $35 million decline in EBIT (earnings before interest and tax). The revenue growth was primarily due to ten additional days of operations in 2014. Usually, the financial year ends on February 2 for PVH. The Warnaco acquisition took place on February 13, 2013.
Article continues below advertisement
Article continues below advertisement
Calvin Klein's North American operations had a 2% increase in same-store sales growth. However, the international operations decreased by 4% due to weakness in the euro. The reduction in the EBIT, despite the higher revenue and average unit retail price, was related to increased marketing spend and ongoing strategic investments associated with the Warnaco merger.
Significant growth potential
As we saw earlier, despite the Warnaco merger, more than 50% of the global retail sales are still sourced from licensing. Systematically, bringing back these operations in-house by moving from a licensor to an owner or operator is the path management intends to focus on for expansions in the future.
Management plans to roll out around 150 new shop-in-shops in 2015 in North America—in an effort to boost sales for the Calvin Klein denim product. Shop-in-shop arrangements have been successful. The retailer that provides rental space in prime locations gets to earn high rentals. Also, the operator gets to earn higher margins than under the wholesale model.
E-commerce experience in more than 20 countries by 2016
In December 2014, Calvin Klein announced that it would expand its e-commerce mode of operations. The e-commerce expansion plan was executed earlier in 2014 throughout Europe, North America, and South America. Now, it will expand to Asia by the end of 2016. Websites will cater to customers' unique preferences in various markets. The websites will launch on desktop and mobile.
Operating through the e-commerce platform greatly reduces the operating costs. Also, it grants better pricing power than marketing through wholesale.
Apparel companies like Coach Inc. (COH), Ralph Lauren (RL), Michael Kors (KORS), and VF Corp. (VFC) are also focusing more on doing business through company-operated websites.
Among other companies, PVH is part of the the Consumer Discretionary SPDR ETF (XLY). XLY holds 0.42% of its portfolio in PVH Corp. It holds 0.47% in Coach and Ralph Lauren. It holds 0.66% in Michael Kors. It holds 1.13% in VF Corp.