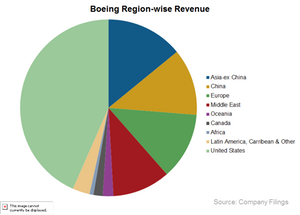 Boeing – a leader in the aerospace industry
Company's description
Boeing (BA) is one of the world's largest aerospace companies. It designs, manufactures, and sells commercial and military aircraft, satellites, weapons, electronic and defense systems, launch systems, advanced information and communication systems, and performance-based logistics and training.
The company is a top US exporter. It also supports airlines and US and allied government customers in 150 countries. Historically, over 70% of its commercial airplane revenue came from non-US customers.
Article continues below advertisement
Boeing is focused on innovation. It keeps expanding its product line and services to meet emerging customers' needs. It creates new and more efficient commercial airplanes, integrating military platforms, and defense systems using network-centric operations. It creates advanced technology, e-enabling airplanes. It arranges financing solutions for its end customers.
The company boasts of a diversified workforce of more than 169,000 people spread across the US and more than 65 countries across the globe. As a major service provider to NASA, Boeing is the prime contractor for the International Space Station.
Business segments
Boeing is primarily divided into two business segments:
Commercial Airplanes
Defense, Space, and Security
The company also has some support units along with the two main units. The support units include:
Boeing Capital Corporation – a global provider of financing solutions
Shared Services Group – provides a broad range of services to Boeing worldwide
Boeing Engineering, Operations, and Technology – helps to develop, acquire, apply, and protect innovative technologies and processes
Boeing faces stiff competition in the US from Lockheed Martin (LMT), United Technologies Corporation (UTX), General Electronics (GE), and Northrop Grumman (NOC).
These companies are part of the iShares US Aerospace & Defense ETF (ITA). International companies in the industry include Airbus, Bombardier, and Embraer (ERJ).