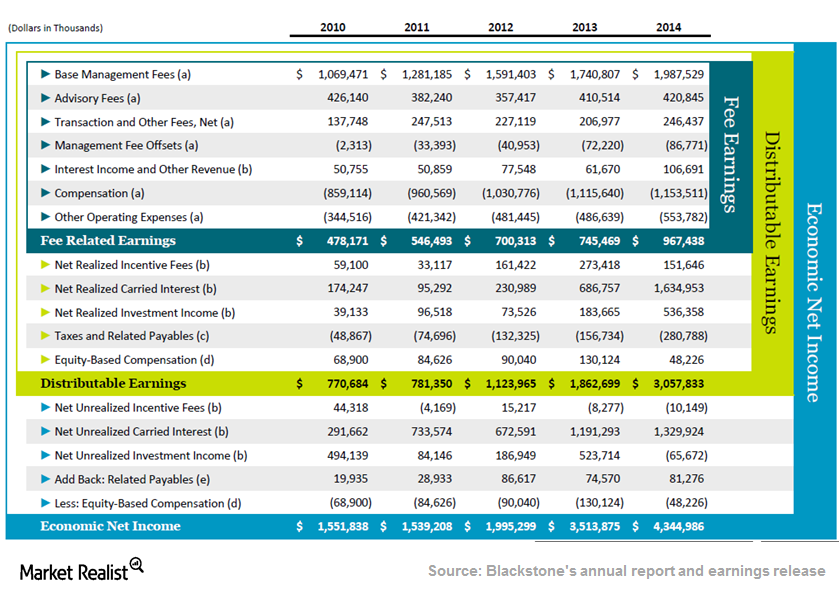 Blackstone's revenue model
How Blackstone makes money
Blackstone Group (BX) manages money for over 1,300 limited partners through its sector-agnostic and real estate funds. The company's revenue model is based on charging management and performance fees for managing the portfolios in its investment advisor firms. It receives an annual management fee based on a certain percentage of a fund's capital commitments or invested capital during the investment period. Following the investment period, it receives fees based on the fair value of the total investments.
In the case of credit-focused carry funds, the company charges fees based on a percentage of invested capital or net asset value throughout the fund's term.
Article continues below advertisement
Performance-linked revenues
Blackstone sets performance fees for generating higher returns. The performance fee is usually 20% of the fund's net capital appreciation per year, subject to certain net-loss carry-forward provisions. In cases where an advisor manages funds through investments in hedge funds and registered investment companies, incentive fees range between 0% and 15%.
Investment income
Blackstone records the unrealized and realized gains and losses on the fund's investments under the investment income category. Investment income is realized when the fund sells its holdings in the investment companies. It's also realized when the investment fund receives dividends or cash income from its holdings in the invested companies.
As you can see in the above chart, management fees and realized fees form distributable earnings. Meanwhile, economic net income constitutes distributable earnings as well as unrealized fees and investment income.
Apart from other alternative asset managers, Blackstone also faces competition from traditional asset managers like BlackRock (BLK), State Street (STT), and Morgan Stanley (MS). Combined, these firms make up 4.39% of the Financial Select Sector SPDR Fund (XLF).