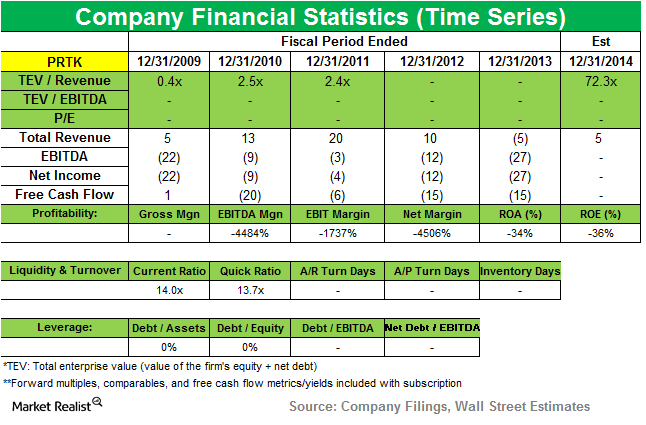 Baupost discloses stake in Paratek Pharmaceuticals
Baupost adds a new stake in Paratek Pharmaceuticals
Seth Klarman's The Baupost Group added a 12.04% stake in Paratek Pharmaceuticals, Inc. (PRTK). A 13G filing in December indicated that the fund owns 1,735,218 shares in Paratek.
Article continues below advertisement
Overview of Paratek Pharmaceuticals
Paratek Pharmaceuticals, Inc. (PRTK) is a biopharmaceutical company focused on the development and commercialization of innovative therapies based on its expertise in novel tetracycline chemistry.
Paratek's two leading antibacterial product candidates are omadacycline and sarecycline (or WC 3035). Paratek believes that omadacycline has the potential to become the primary antibiotic choice of physicians for use as a first-line monotherapy for acute bacterial skin and skin structure infections (or ABSSSI), community-acquired bacterial pneumonia (or CABP), complicated urinary tract infections (or cUTI), and other serious community-acquired bacterial infections. WC 3035 is a novel tetracycline-derived compound designed for use in the treatment of acne and rosacea.
Omadacycline has received qualified infectious disease product (QIDP) designation by the U.S. Food and Drug Administration (or FDA) for both the oral and intravenous formulations in ABSSSI, CABP, and cUTI. Paratek has Special Protocol Assessment agreements with the FDA for the Phase 3 trials planned in ABSSSI and CABP.
In January, Paratek announced that Actavis (ACT) will be making a $4 million milestone payment to Paratek for the development of WC 3035. Under the collaboration, Actavis has initiated Phase 3 clinical trials of sarecycline in moderate to severe acne.
Article continues below advertisement
Baupost invested in newly merged Paratek Pharmaceuticals last year
In July 2014, Transcept Pharmaceuticals, Inc. (TSPT) and the privately held Paratek combined under a reverse merger deal. Under the reverse merger deal, Paratek was acquired by Transcept. The combined entity was named Paratek Pharmaceuticals and commenced trading on NASDAQ in October. Transcept was a specialty pharmaceutical company that had one commercial product, Intermezzo, for the treatment of insomnia related to middle-of-the-night awakenings.
As part of the transaction, new investors, including The Baupost Group, Abingworth LLP, other institutional investors, certain Transcept stockholders such as InterWest Ventures and Roumell Asset Management, and certain Paratek stockholders such as Omega Funds, HBM Healthcare Investments, and Aisling Capital, agreed to invest about $93 million in the combined organization.
Following the merger, the combined organization is expected to focus on the development and commercialization of antibacterial therapeutics.
Baupost's other positions
The Baupost Group added positions in PBF Energy (PBF) and Cheniere Energy (LNG). The fund boosted its biotech portfolio with additions of Atara Biotherapeutics (ATRA), Forward Pharma (FWP), and Paratek Pharmaceuticals (PRTK). However, it disposed of a stake in Aveo Pharmaceuticals (AVEO).
The next part of this series will highlight The Baupost Group's stake addition in Aveo Pharmaceuticals (AVEO).