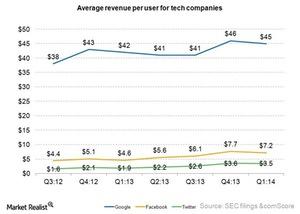 Average revenue per user is an important growth driver
Average revenue per user
Average revenue per user (or ARPU) is another important metric for Internet companies. It provides an idea of how well a company can monetize its user base.
ARPU for Facebook (FB) increased to $2.81 in 4Q14 from $2.14 in the year-ago period. Higher engagement numbers and ad prices drove this growth. We discussed higher ad prices in the previous part of this series.
Article continues below advertisement
Google's massive ARPU
As the chart above shows, the 1Q14 ARPU for Google (GOOG) was six times larger than that of Facebook. Twitter (TWTR) saw a bigger percentage increase during that quarter than Facebook or Google. All three companies continued to grow their ARPUs strongly and had aggressive plans to increase advertising revenues in 2014 and 2015.
When it came to ARPU, Google dominated Twitter and Facebook by a wide margin. However, Google's year-over-year ARPU growth rate slowed from 14% in 1Q13 to 8% in 1Q14.
Meanwhile, ARPUs for Facebook and Twitter have been increasing rapidly. Facebook and Twitter's ARPUs grew by nearly 60% and 80%, respectively, during the first quarter of 2014.
All of this suggests that Facebook and Twitter's ARPUs still have a lot of potential for growth. Conversely, Google's ARPU seems to have matured and leveled off.
Reason for Google's higher ARPU
Google boasts 70% of global search ad revenue. Search ads carry higher rates in comparison to display ads. This is because search ads appear on the search results pages when a user is looking for specific information through a search engine. So, a search ad's chances of getting clicked are higher. A user may not be as interested in display ads, so they have less of a chance of getting clicked unless they are highly relevant to the user.