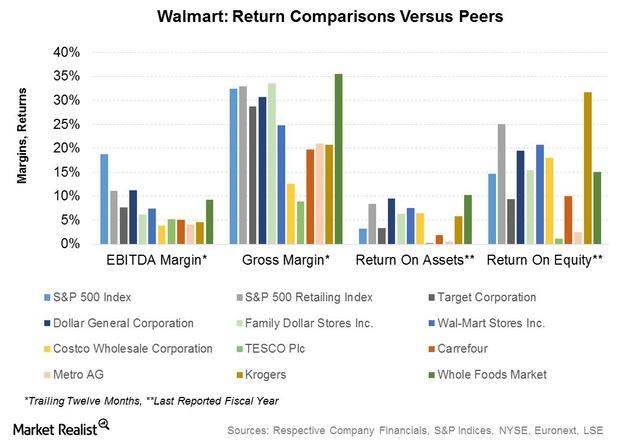 Analyzing Walmart's Cost Structure With US And Overseas Firms
Analyzing Walmart's profitability
Margins in the food and staples (XLP) retail segment are slender—compared to the overall retail (XRT) sector. It's important for Walmart (WMT) and other companies in the retail space to keep a tight grip on the cost structure. The margins are particularly low in the grocery category. The food segment is prone to fierce competition and price cuts. To learn more, refer to Parts 9 and 10 in this series.
Article continues below advertisement
Article continues below advertisement
Gross margin
Some of Walmart's margins are lower—compared to other companies in the retail industry. In particular, the company's gross profit margin trailed Whole Foods Market (WFM) and Target (TGT). Merchandising mix is important. It's important to note that 56% of Walmart's US sales stem from groceries. The percentage is much lower for Target. In contrast, Whole Foods Market retails premium organic foods. Its products are more expensive. It earns better margins.
The merchandising mix is also responsible for Kroger (KR)—a supermarket chain—earning lower gross margins than Walmart. Kroger is primarily a grocer. It gets a larger percentage from food items.
Wholesale versus retail
Walmart's main rival in the wholesale category is Costco (COST). Costco earned lower gross margins than Walmart. This is due to the wholesale nature of Costco's business. Costco's volumes are high and its margins are low. Costco's returns are comparable to Walmart's Sam's Club segment. Costco earned an operating profit margin of 2.9% over the last 12 months. In contrast, Sam's Club earned 3.3%.
Everyday low prices
Walmart is following a volume play, instead of a margin play. The company's EDLP (everyday low price), Savings Catcher, Save Even More, Ad Match, and rollback initiatives mean that most goods sell at highly competitive prices. Price competitiveness is important—considering that the low and middle class account for the bulk of Walmart's customers.
Walmart's Savings Catcher app launched in August 2014. It ensures that customers can determine the price difference between products retailing for less at rival stores. Walmart credits the difference to gift cards. The program signed over 5 million customers through October 2014.