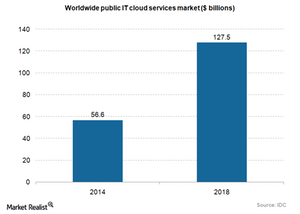 Why Amazon Web Services is an attractive business
Amazon Web Services aims at leveraging the fast-growing cloud services market
In the previous part of this series, we discussed how Amazon's (AMZN) initiative to provide transparency with regards to Amazon Web Services' (or AWS) results cheered investors. We also discussed how Piper Jaffray gave a valuation of $32 billion to AWS. Here, we'll look at why Amazon's AWS business is so attractive.
The AWS business aims at leveraging the fast-growing cloud services market. According to a report from IDC and as the chart below shows, the public IT cloud services market should grow from $56.6 billion in 2014 to $127.5 billion in 2018—a compound annual growth rate (or CAGR) of 23%. This growth will be about six times the growth rate of the overall IT sector, according to the report.
Article continues below advertisement
Amazon's a leading player in the fast-growing cloud services market
The overall cloud services market comprises three components:
software as a service (or SaaS)
infrastructure as a service (or IaaS)
platform as a service (or PaaS)
The IDC report mentions that SaaS accounts for 70% of the overall cloud services market.
Salesforce.com (CRM) is the leading player in the SaaS market, but Amazon leads the IaaS and PaaS markets. According to a report from IT Candor, Amazon leads this market with a share of about 10%. It's followed by Microsoft (MSFT), Google (GOOG), and IBM (IBM).
Leading a fast-growing component of the cloud services market (IaaS and PaaS) makes AWS an attractive business. This probably explains why investors are excited about Amazon's decision to start revealing AWS numbers from next quarter.
If you're bullish about Amazon, you could invest in the PowerShares QQQ Trust, Series 1 (QQQ), which invests about 3.5% of its holdings in Amazon.