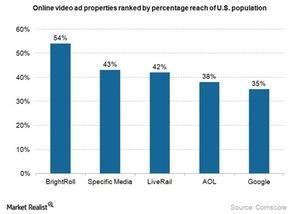 Yahoo completed the acquisition of BrightRoll
Yahoo's acquisition of BrightRoll
On December 15, 2014, Yahoo completed the acquisition of BrightRoll for ~$640 million in cash. The transaction will combine Yahoo's premium desktop and mobile video advertising inventory with BrightRoll's programmatic video platform and publisher relationships. It will bring substantial value to advertisers on both platforms.
BrightRoll is the industry's leading programmatic video advertising platform. It reaches audiences across desktop, mobile, and connected TV. Yahoo expects the transaction to enhance its EBITDA (earnings before interest, tax, depreciation, and amortization).
Article continues below advertisement
The acquisition will strengthen Yahoo's strategy on search, communications, and digital content through growth in mobile, social, native, and video advertising. Acquiring BrightRoll will dramatically strengthen Yahoo's video advertising platform. It will make Yahoo's video advertising platform the largest in the US.
Yahoo's peers in the video ad space also completed acquisitions to boost their video ad share. Facebook (FB) acquired LiveRail to leverage the fast-growing video ad market. LiveRail is an online video advertising platform. It helps customers to efficiently monetize their video inventory. Last year, Google also launched its Partner Select program to expand its video business beyond YouTube.
BrightRoll dominates the online video ad market
As the above chart shows, BrightRoll and Specific Media are the top players in the online video ad market. Interestingly, with Yahoo's acquisition of BrightRoll in December, it will make Yahoo (YHOO) grab some share in the market. AOL (AOL) and Google (GOOG) (GOOGL) rank fourth and fifth. Surprisingly, AOL ranks higher than Google in the market because AOL acquired video ad exchange Adap.tv last year.
For the latest updates and news, visit Market Realist's Tech, Media, and Telecom page.