Why Teradyne's offerings provide value to end-user markets
This article takes a look at Teradyne's (TER) product line and how it adds value to its customer base.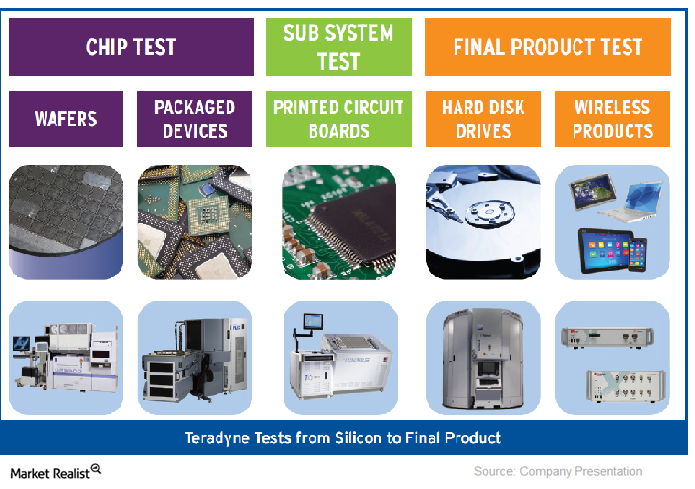 Teradyne's product portfolio
In the first part of this series, we learned about Glenview Capital Management's added stake in Teradyne, Inc. (TER). We also got a glimpse of its operations. Now we'll look at Teradyne's product line and how it adds value to its customer base.
Under Teradyne's semiconductor test division, Teradyne offers FLEX, J750, and Magnum test platforms. The FLEX platform is designed for high-efficiency and simultaneous multi-site testing of System-on-a-Chip (or SOC) devices in parallel. It's known for its low-cost-per-device test and high production yields.
Article continues below advertisement
Article continues below advertisement
The J750 test platform is dedicated to testing microcontrollers used in electronics product and image sensor devices used in cameras and imaging devices. Demand growth for this platform is driven by mobile and automotive industries, which are the end-user markets. The Magnum products allow mass production testing of memory devices, including flash memory and DRAM.
LitePoint IQxstream and IQxel facilitate the high-volume, low-cost production testing needs of cellular GSM, CDMA, and LTE technologies. They also facilitate wireless technologies such as Wi-Fi standard, Bluetooth, and ZigBee. According to Teradyne's management, eight out of the top ten smartphone makers are LitePoint customers. In 2014, Teradyne added a new NFC (near field communication) test product called IQ NFC.
Teradyne (TER) addresses the verification requirements of circuit boards through the TestStation and Spectrum product line. Storage test requirements of both 3.5-inch and 2.5-inch hard drives are addressed through its products Saturn and Neptune.
Teradyne addresses testing requirements
Teradyne (TER) sells semiconductor test products and services to the following:
ISMs such as Intel (INTC) that manufacture integrated circuits (or ICs).
Fabless companies such as Nvidia (NVDA), Broadcom (BRCM), and Apple (AAPL) that design ICs but outsource the fabrication process to foundries in order to stay asset-light and have lower operational costs.
Pure-play foundries such as Taiwan Semiconductor Manufacturing Company (TSM) that process and manufacture silicon wafers for the fabrication of ICs.
OSATs (open-source appropriate technologies) such as Amkor Technology (AMKR) that provide test and assembly services for the final packaged devices.
Through its offerings, Teradyne (TER) enhances the productivity and quality of chips that are used in everyday devices.
Presently, ETFs such as the iShares PHLX Semiconductor ETF (SOXX), the VanEck Vectors Semiconductor ETF (SMH), and the First Trust Technology AlphaDex Fund (FXL) have sizable allocations in their portfolios for Teradyne (TER).