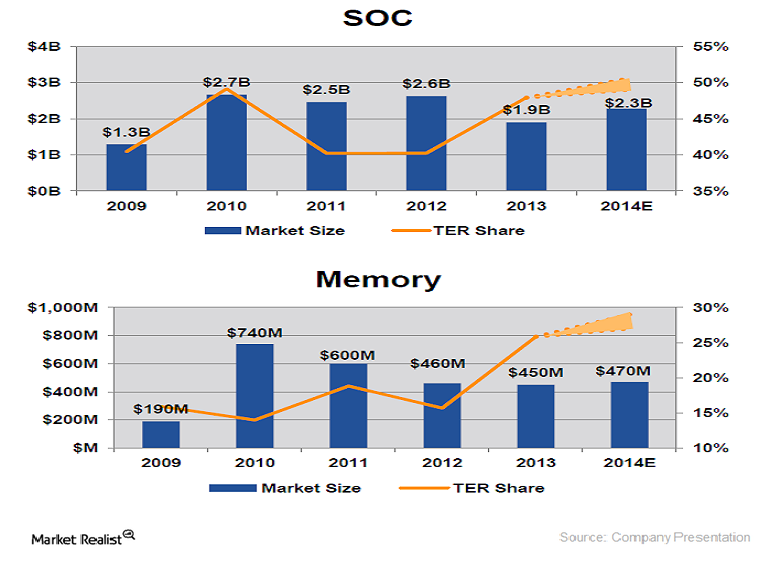 Teradyne boasts encouraging market share gains
By Santiago Solari

Jan. 15 2015, Updated 9:28 a.m. ET
Market for SoC testing likely to recover
In the previous part of this series, we discussed the outlook for the semiconductor equipment manufacturing industry. Earlier in the series, we saw the significance of the semiconductor test segment, the testing of integrated circuits, and the SoC (system-on-chip) and memory devices. Now let's take a look at management's view on its core segments.
Teradyne (TER) has about 50% of the SoC market share of the $2.3 billion market for SoC testing. The SoC test market has declined greatly from its $3.0 billion size in 2004. This is due to the annual increase in SoC device unit volume, which has been more than offset by increasing tester efficiencies, a combined effect of Moore's law and parallel testing. This, in turn, has put downward pressure on prices.
Article continues below advertisement
What is Teradyne saying?
Teradyne's management believes that test efficiency for many devices has reached the point of diminishing returns, thereby yielding minimal cost benefits to companies. Therefore, the device unit volume growth should more than offset the efficiency impact, resulting in a 5% annual market growth over the medium term.
Management predicts this will add about $55 million in incremental revenues. The company expects to gain 1% market share in 2014.
Teradyne has about 26% share of the $470-million memory testing market. The company expects to gain 3 to 5 points of share this year because its focus on testing higher bus speeds of new NAND flash and DRAMs has started to pay off.
Advantest Corporation (ATE) and Xcerra Corporation (XCRA) are also benefiting from the volume growth for SoC testing and current test efficiency levels.
The positive outlook for the SoC test market can benefit ETFs such as the iShares PHLX Semiconductor ETF (SOXX) and the First Trust Technology AlphaDex Fund (FXL), which have a high weighting for Teradyne (TER).
Wireless testing market set to undergo contraction
The wireless test market size is expected to compress to $600 million by the end of 2014, from $1.0 billion a year earlier. LitePoint, Teradyne's subsidiary in the wireless test business, will be less affected largely due to its design wins in cellular and NFC (near field communication) testing. In fact, Teradyne's management believes the company could gain market share by 2 to 3 points, to 30%, in 2014.
Market compression could lead to a shakeout period within the wireless test market. This would present challenges for Teradyne (TER), National Instruments (NATI), and Agilent Technologies (A).