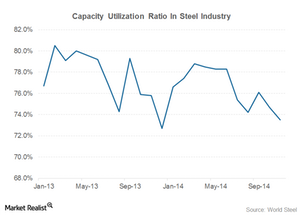 Steel Industry's Capacity Utilization Ratio Is At A 1-Year Low
Capacity utilization ratio
The capacity utilization ratio is a key determinant of steel companies' profitability. As a result, it's a key metric that steel play investors should actively track. With a low capacity utilization ratio, the competition increases among existing players. Producers sell their products at marginal costs just to keep their plants running.
There are fixed costs associated with a steel plant. These fixed costs also include interest expenses. The fixed costs have to be borne by the steel companies. It doesn't matter whether the plant is idle or operating at a lower capacity.
Article continues below advertisement
Capacity utilization came down
The World Steel Association releases the monthly steel production and capacity utilization figures. Capacity utilization came down to 73.5% in November. This is the lowest level since December 2013.
There's some amount of seasonality in capacity utilization. The ratio tends to be lower towards the end of the year. However, the capacity utilization ratio in November was 2.4% lower on a year-over-year, or YoY, basis. Some of this is due to lower production in China. China closed some of its steel plants before the APEC (Asia-Pacific Economic Cooperation) conference. This was done to reduce the pollution levels in the Chinese capital.
2015 outlook
The capacity utilization could stay at low levels in 2015 as well. In order for the ratio to improve significantly, the production overcapacity in China and Europe has to permanently shutdown.
Steel Dynamics (STLD) has one of the highest capacity utilization ratios in the steel industry. Currently, it's a top holding of the SPDR S&P Metals and Mining ETF (XME). U.S. Steel Corp. (X) also reported significant improvement in the capacity utilization ratio as it shutdown excess capacity. Nucor (NUE) and ArcelorMittal (MT) are still struggling from lower utilization ratios.
You can visit Market Realist's Industry page to learn more about the steel industry.