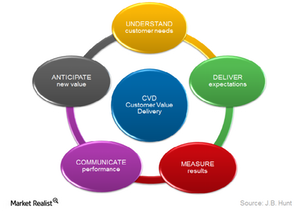 What sets J.B. Hunt apart from its competitors?
What sets JBHT apart from its competitors?
J.B. Hunt's (JBHT) unique operating strategy focuses on offering multiple services through its four business segments. It also offers a full range of logistic services through third parties. Along with its advanced technologies, this helps the company increase its profits. It also adds value to JBHT's customers. In this part of the series, we'll discuss what sets JBHT apart from its competitors.
Article continues below advertisement
Article continues below advertisement
Value creation
JBHT follows a customer value delivery method. The method is illustrated in the above diagram. It ensures continuous development and value creation that matches customer's needs with the company's services.
Innovation
JBHT focuses on re-inventing the traditional transportation processes in order to fulfill customer needs that weren't tapped. The company has an integrated, multimodal approach that provides capacity-oriented solutions.
Article continues below advertisement
Rich history
JBHT has more than 40 years of experience. This helped it produce a huge inventory of transportation solutions. From pioneering the intermodal revolution, to becoming North America's premier dedicated provider, to launching its Final Mile Services, the company continuously reinvented itself to bring innovative solutions into the market.
Strong workforce
The company has one of the best and most service-oriented workforces in the industry. This helps the company deliver on its values. The company also awards its employees. It has been ranked among the best places to work numerous times. For example, it has been named six times to the list of "100 Best Places to Work in IT" by IDG's Computerworld magazine.
Safety
JBHT has the most experienced and safe drivers. They're trained using driving simulators. The Smith System driver-training practices ensure that there aren't any major accidents.
JBHT's competitors include Knight Transportation (KNX), Old Dominion Freight Line (ODFL), and Saia, Inc. (SAIA). These companies are part of the First Trust Mid Cap Growth AlphaDEX Fund (FNY).
In the next part of this series, we'll discuss what JBHT plans to do in order to maintain its strong leadership.