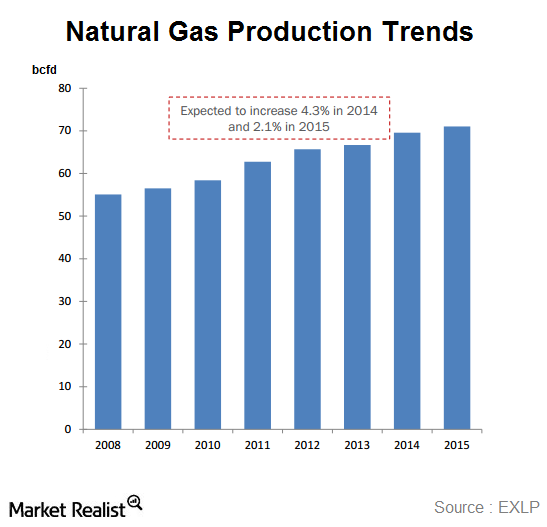 An overview of the natural gas compression industry
Why is natural gas compression important?
Natural gas compression is essential for transporting natural gas. Compression is used several times during the natural gas production and transportation cycle. It is used to get natural gas from low-pressure wells to gathering systems, and then used during transport from gathering systems to storage or the end user.
In addition, natural gas compression is also used in natural gas storage projects for injection and withdrawals during the normal operational cycles. Compression services are also used for compression applications in refineries and petrochemical plants.
Article continues below advertisement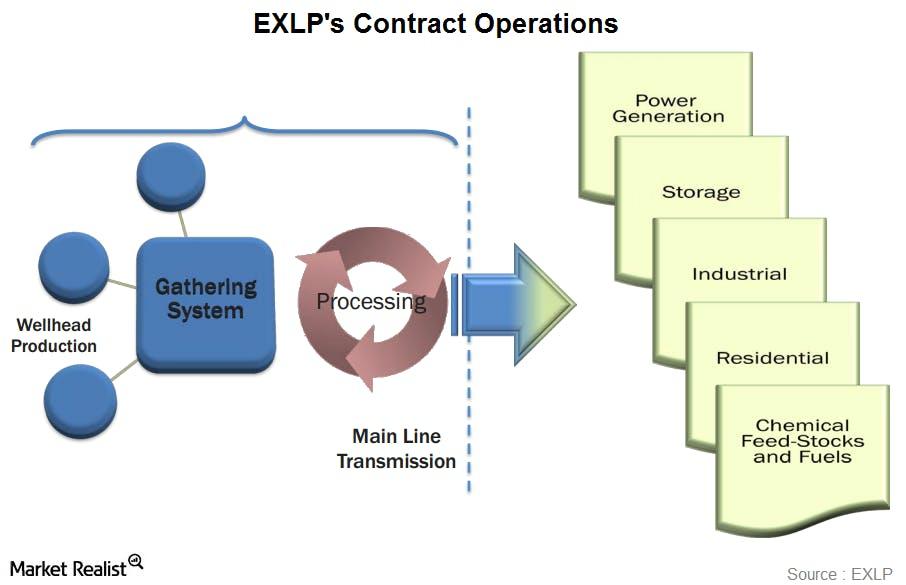 Natural gas compression industry
Natural gas producers usually outsource their compression services due to the benefits and flexibility of contract compression.
According to Exterran Partners (EXLP), outsourcing compression operations to compression service providers presents the following benefits:
"The ability to efficiently meet their changing compression needs over time while limiting the underutilization of their owned compression equipment;
Access to the compression service provider's specialized personnel and technical skills.
The ability to increase their profitability by transporting or producing a higher volume of natural gas through decreased compression downtime and reduced operating, maintenance, and equipment costs by allowing the compression service provider to efficiently manage their compression needs; and
The flexibility to deploy their capital on projects more directly related to their primary business by reducing their compression equipment and maintenance capital requirements."
Article continues below advertisement
Lifeline to the natural gas compression industry
Natural gas compression requirements are dependent on natural gas production. EXLP notes in its company presentation that US natural gas production is expected to increase 4.3% in 2014 and 2.1% in 2015.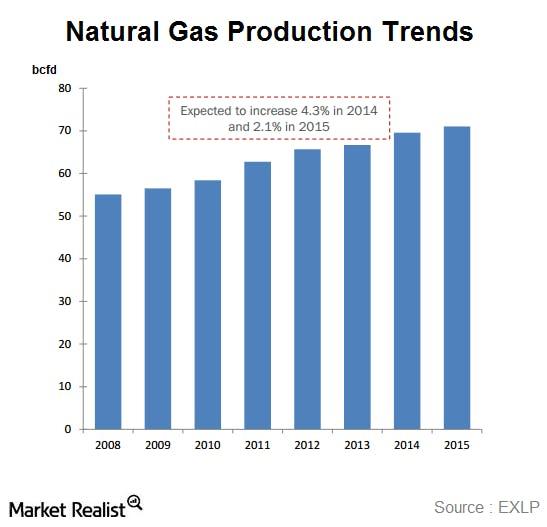 Article continues below advertisement
However, increased production coupled with warm temperatures this winter are driving natural gas prices lower. Read Market Realist's Energy & Power page to learn more about the recent trends in natural gas prices.
Weak natural gas prices hurt the margins of gas-weighted producers such as Chesapeake Energy (CHK), Range Resources (RRC), and EOG Resources (EOG). All these companies are components of the Energy Select Sector SPDR ETF (XLE).
Effect of lower prices
Lower prices might cause producers to scale back on natural gas drilling, lowering the demand of natural gas compression services. Falling oil prices also indirectly affect natural gas production because oil-targeted drilling also generates natural gas production. If producers reduce their drilling activity, this could negatively affect the natural gas compression industry.
However, Exterran Holdings CEO Bradley Childers, said in the recent earnings call, "From an overall market perspective, we remain optimistic about the long-term outlook for our businesses, supported by the expectation for increasing oil and natural gas production levels over the coming years. A potential headwind, however, has been posed by the recent decline in oil prices, which could have a moderating impact on industry activity levels. Although this heightened uncertainty, we have not yet seen an impact to our business."