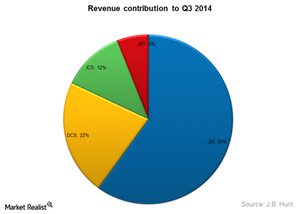 An overview of J.B. Hunt Transport Services
By Ally Schmidt

Updated
J.B. Hunt Transport Services, Inc.
J.B. Hunt Transport Services, Inc. (JBHT) is one of the leading transport and logistics companies in North America. The company operates a huge fleet of semi-trailer trucks. Its services include transporting full truckloads of freight. JBHT also provides customized freight movement, revenue equipment, and labor and systems services that are tailored to meet customer requirements.
The company has connections with most of the major North American rail carriers—like Union Pacific (UNP) and Norfolk Southern (NSC)—to transport truckloads of freight in containers and trailers.
We'll discuss these services more in the next part of this series.
The company has a diverse customer base—including a large number of Fortune 500 companies throughout the US, Canada, and Mexico. JBHT is a leader in the industry.
JBHT operates in four business segments:
Intermodal, or JBI
Dedicated Contract Services, or DCS
Full-Load, Dry-Van, or JBT
Integrated Capacity Solutions, or ICS
The company transports a variety of products—including automotive parts, department store merchandise, paper and wood products, food and beverages, plastics, chemicals, and manufacturing materials and supplies.
Article continues below advertisement
History
In 1961, JBHT was started by Johnnie Bryan Hunt and his wife. Initially, the company had five trucks and seven trailers. Hunt started it as a side business to his poultry feed company. A decade later, JBHT was shipping goods across the country. The deregulation of the trucking industry occurred in 1980. This played a major role in JBHT's development. The company kept the drivers' pay low. It improved the margins through cost-cutting efforts.
JBHT's big jump came when it got a lucrative contract to haul merchandise for Walmart (WMT). WMT became its largest customer. WMT forms a major part of the Consumer Staples Select Sector SPDR (XLP). Eventually, JBHT spread to Canada and Mexico. It became the largest publicly-held trucking company in America.