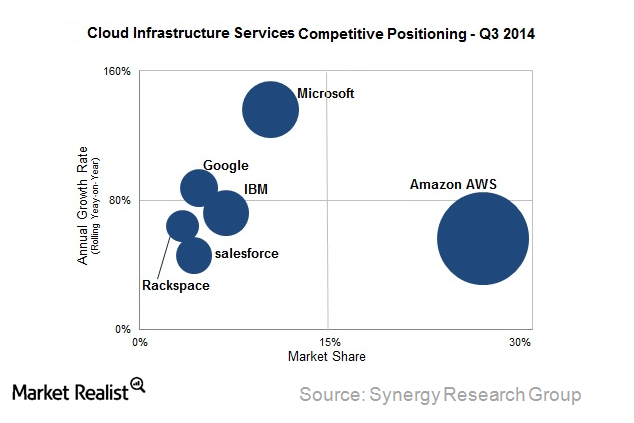 Why Microsoft Azure is a key determinant of Microsoft's growth
By Anne Shields

Nov. 20 2020, Updated 4:23 p.m. ET
Microsoft Azure reported good growth
As mentioned in Microsoft's 1Q15 earnings review, it's future growth prospects are highly dependent on the company's success in the cloud, mobile, and Windows 10 OS.
In this series, we'll focus on its cloud offerings and growth. Through Azure, Microsoft (MSFT) entered into the cloud space. Amazon's (AMZN) Amazon Web Services, or AWS, is the market leader in the cloud space. It commands a 26% market share in the IaaS (Infrastructure-as-a-service) and PaaS (Platform-as-a-service) market. Microsoft Azure commands a 12% share in this space.
However, Azure showed tremendous growth. It had triple-digit growth. In 2014, it grew an average of 140%—compared to Amazon. Amazon had 40% growth for AWS. Salesforce.com (CRM) is a leading player in the SaaS (Software-as-a-service) space.

The above chart shows that Microsoft Azure offers the most economic option—compared to EMC (EMC), IBM (IBM), and Oracle (ORCL).
Article continues below advertisement
Hybrid platforms provide solutions to cloud concerns
There are concerns associated with the cloud—security, privacy, and compliance issues. As a result, many companies were hesitant to shift their workload to the cloud.
Microsoft turned this problem into an opportunity. It offered a hybrid cloud. Microsoft's hybrid cloud offered a proposition. Companies can shift their workloads that aren't too sensitive to the public cloud. In terms of sensitive data, they can use private cloud services. Hybrid cloud allows organizations to have their own on-premise private infrastructure. It can be accessed directly. It helps lower access time and latency issues.
Realizing the potential and popularity of hybrid platforms, Microsoft announced several hybrid cloud platforms—Microsoft Azure ExpressRoute, Microsoft Azure Site Recovery, and Enterprise Mobility Suite.